MCC News
MCC-led Community Workshop to Explore Shifting Technologies' Impact on Employers, Workforce Training (10/22/2019)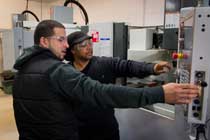 WHAT:
Over 100 business leaders from various industries and stakeholders in the Finger Lakes region will convene for a
Future of the Technician Workforce
strategic planning workshop, hosted by Monroe Community College, on Nov. 5 aimed at defining and building the region's next generation of technician workers.
In collaboration with businesses and organizations, MCC's Economic and Workforce Development Center is leading efforts to conduct research and analyses on the impact of transformative technologies on the region's employers and industry, particularly across the advanced manufacturing, health care, information technology and skilled trades sectors, in the next five to 10 years. The goal of the workshop and study is to establish a pipeline of highly skilled technicians whose qualifications align with employers' hiring needs.
WHERE:
Wegmans Conference Center, 200 Wegmans Market St. in Chili
WHEN:
8 a.m. to 4 p.m. Tuesday, Nov. 5; best opportunities for interviews are from noon to 12:20 p.m.
DETAILS:
Rapid technological advancements and increasing global competition spur the need for a new generation of highly skilled technicians with expertise in key technological platforms, including artificial intelligence, automation, data exchange and robotics.
The workshop is part of a larger effort to:
· Anticipate the impacts of Industry 4.0 and transformative technologies on regional employers.
· Determine future technological competencies, knowledge and skills of the technician workforce required by employers across multiple industry sectors.
· Identify partnership and investment opportunities in workforce education and training.
Dialogues will inform MCC's
Future of the Technician Workforce Study
and the
Finger Lakes Workforce Development Center
being built at MCC's Downtown Campus.
Media Contact:
Hency Yuen-Eng
Government and Community Relations
585-292-3063
hyuen-eng@monroecc.edu