Diploma and Transcript Distinctions
Transcripts
Service-learning courses and the required service hours in those courses will be transcripted in two ways:
First, all service-learning courses will be indicated as such on a student transcript.
Second, the transcript will indicate the total number of service-learning hours (civic engagement) completed by the student. This is not credit hours, but actual service hours logged from each service-learning course taken where the student has completed all of the service hours required and has passed the course.
Diplomas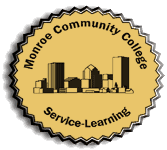 Students will have the opportunity to receive a diploma distinction for having completed 200 service-learning hours while at MCC.
For most students, achievement of this distinction will require approximately 30 credit hours of service-learning courses. There are, however, some 3-credit courses such as CRJ 211 and SVL 101 that have 135 service hours required for successful completion. These courses would provide an intensive option to receiving the diploma distinction. To obtain credit for service hours, a student must complete all required service hours in the course and pass the course with a 2.0 or higher.
Benefits of this transcript enhancement and diploma distinction are:
Student employability is improved because these are excellent indicators to employers that this student has civic experience throughout her or his coursework.
Student transferability is improved because these are excellent indicators to transfer colleges that this student has civic experience throughout his or her coursework.
The above-mentioned enhancements will prompt questions from employers and transfer colleges and provide an opportunity for the student to present her or his service-learning portfolio of civic engagement.
This distinction is emblematic of the accomplishments of the student while they were at Monroe Community College