Declare your independence at MCC's apartment-style housing.
It's pretty rare to find a community college with campus housing – in fact, only about 6% in the U.S. do. That's why Monroe Community College is proud to offer you the full college experience.
Located on the Brighton Campus and divided into apartment-style suites, each unit of MCC's residence halls offers a full kitchen and all the furnishings you need to sleep, eat, study and relax.
Other MCC residence hall amenities include:
Air conditioning
Dishwasher
Microwave
Cable TV
WiFi
Coin-operated laundry
Want to Live on Campus All Year? NOW YOU CAN!
NEW 12-MONTH OPTION GIVES STUDENTS A HOME BASE UNRESTRICTED BY SEMESTERS
Understanding that housing security can be vital to a student's academic success, MCC is pleased to offer a new option to help ensure the goals of all students can be fulfilled. In addition to our traditional semester-only housing option, we are now offering a new 12-month housing alternative that begins for the Fall 2023 semester.
This new 12-month housing option is ideal for students who find it inconvenient or difficult to vacate campus housing over vacations and breaks. This includes students who may be employed locally, lack a parental home or the resources to travel, or choose to take Intersession and/or summer courses.
Students who opt for the 12-month housing option must be attending MCC full-time, be enrolled in a credit or non-credit program for both the Fall and Spring semesters and be in good academic standing with no conduct violations.
Meet new friends and enjoy your independence when you live on campus.
Living on campus gives you the chance to be independent, while also becoming part of a special community. From learning to cook with your roommates to playing lawn games with students from other residence halls, you'll develop long-lasting friendships with people from across Western New York and around the world.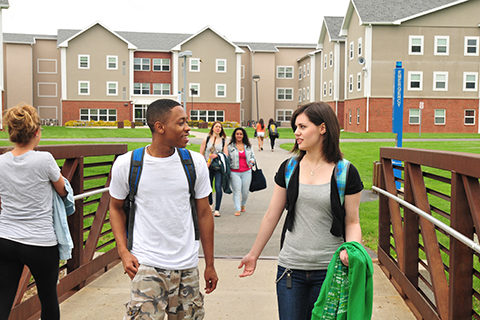 MCC's residence halls complex is named after Dr. Alice Holloway Young, one of the first African-American teachers in the Rochester City School District and a founding member of the College's Board of Trustees.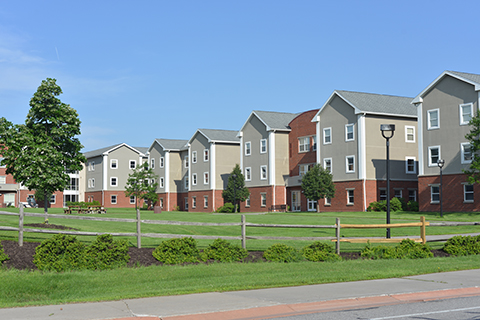 On-campus living allows students to immerse themselves in the college experience through our award-winning athletics program and 60+ clubs and organizations that can broaden their perspective and enhance their leadership skills.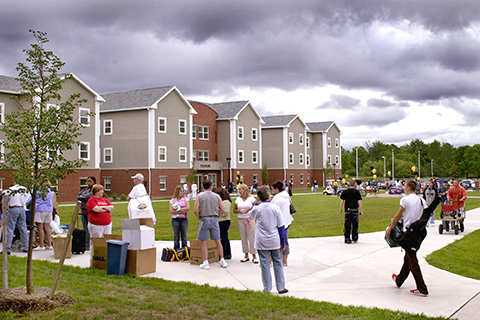 Special residence hall programs throughout the academic year encourage students to be active participants in enrichment activities outside the classroom.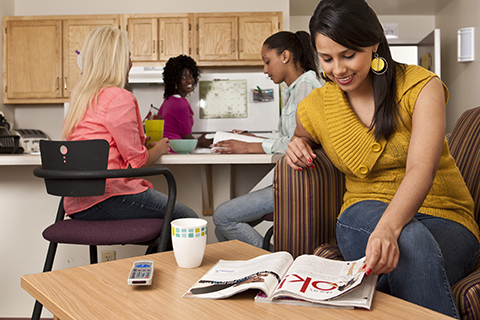 Each kitchen in our residence hall suites is equipped with a refrigerator, stove, oven, microwave, dishwasher and food pantry.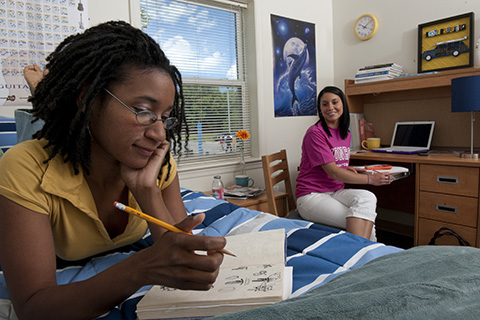 Residence halls bedrooms include a bed, a desk and chair, two bedside tables, and a large wardrobe.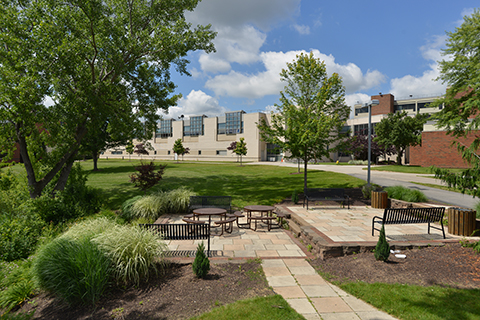 Located in a scenic park-like setting at the north end of the Brighton Campus, MCC's residence halls give students the opportunity to live where they're learning.
53 Canal Hall
| | |
| --- | --- |
| Hours: | Monday-Friday, 8:45 a.m. to 4:45 p.m. |
| Phone: | 585.292.3674 |
| Fax: | |
MCC Residence Halls
Learn more about MCC's housing options: