Meet Members of the Class of 2023!
MCC's newest graduates are poised to make an impact. Learn how these graduates will be applying their MCC education to the local workforce and to advanced studies at area colleges. The success of our graduates keeps MCC inspiring every day. #MCC2023
Adam Barrett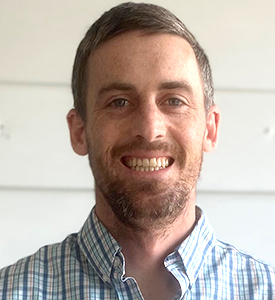 A Marine Corps veteran with four young children, 34-year-old Adam Barrett feels "super blessed" to have started his journey at Monroe Community College in January 2022.
Following seven years of active-duty service with a bachelor's degree under his belt, Adam returned to the Finger Lakes region in 2017 to begin a new career and raise a growing family with his wife. His first jobs after military service were in supervisory roles, but he saw limited opportunities for advancement. It was time for a career change. His explorations ultimately led him to MCC.
Shortly after completing MCC's 10-week HVAC Jumpstart program, he was hired at Dailey Electric Inc. With his foot in the door as an HVAC technician, he set his sights on bigger goals – including achieving an HVAC degree. HVAC is short for heating, ventilation and air conditioning.
On May 25, he will graduate with an associate degree in HVAC, along with the honor of being named to the dean's list for every semester. Balancing full-time work at Dailey's and full-time studies at MCC for the past year and a half have paid off.
"I wanted to shorten my learning curve as I transitioned into a new career field," he said. "MCC has allowed me to quickly and successfully pivot into the energy sector without experiencing a major financial setback."
Adam is grateful to Eric Wheeler, assistant director of Veteran Services, for being "an outstanding advocate for veterans." He is also thankful to his professors Kevin French, Bill Horton and George Merz, who "pour their heart, expertise, and energies into the HVAC program and students. Each of them has been a unique mentor and serves as a role model for what a professional HVAC technician should aspire to be. Finally, I am thankful to God, my wife, and for their enduring support over the past year while I transitioned careers."
Casan Curry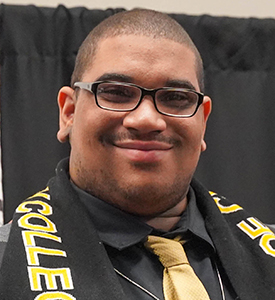 Casan Curry was delayed in enrolling in Monroe Community College after a tragic accident took the lives of several family members, including his mother and aunt, in June 2019. He suffered severe injuries to his leg and back. After coming to MCC in early 2020, he discovered a close-knit community within the Men of Excellence program that provided him with academic and social support, along with one-on-one mentoring and leadership development opportunities.
He also participated in the Architecture, Construction and Engineering Mentor Program and a trades program through the Empire State Chapter of Associated Builders and Contractors. "I love building with my hands and crafting things," Casan said.
A scholarship award recipient who was named to the dean's list in fall 2022, Casan earned an associate degree in liberal arts and sciences-general studies in December and plans to continue his education in architecture at a SUNY college toward the goal of becoming an architect.
"With what I've been through – recovering from the accident and then what happened with COVID – I persevered and was able to get through all of that to graduate," said the 21-year-old Rochesterian. "I want to give a shout-out to all of the people who have helped me get through the past few years at MCC: the people at the Disability Services, Dr. Griffin (Men of Excellence coordinator), members of the Men of Excellence, my professors, my family and friends who supported me along the way."
His biggest supporter – his 72-year-old grandmother who has cared for him since the accident – beams with pride over his accomplishments and talks about her grandson every chance she gets. On May 25, she will proudly watch as Casan crosses the graduation stage. "She has probably told a lot more people about the Commencement as much as I have," Casan said. "She is also ecstatic as I am."
Christopher P. Fox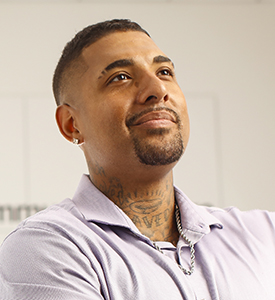 A U.S. Army veteran and single father, Christopher P. Fox was injured while on deployment in Iraq. He lives with a traumatic brain injury and severe post-traumatic stress disorder, both of which make obtaining and retaining employment challenging.
Now living in Webster, he aspires to become an attorney and fight for legislation that adequately protects people. For Christopher, becoming an attorney is not driven by financial security but rather the ability to help those the state has overlooked.
Since earning an associate degree with distinction in criminal justice and an advanced studies certificate from Monroe Community College in December 2022, he has been pursuing a bachelor's in legal studies at St. John Fisher University. At MCC's Commencement on May 25, as his 7-year-old son, Jaxon, looks on, Christopher will celebrate his many MCC achievements, including being named to the dean's list for five semesters.
"I'm grateful for the personal relationships that I was able to build with my professors, especially Adrian Smalls, Peter Francione and Kelly Nagle. Anytime I asked my professors what I couldn't understand, they worked with me until I understood it," said Christopher, 36, who worked as an intern in the Monroe County Conflict Defender's Office while enrolled in MCC. "Being an older student, I was worried I wouldn't be able to mix well with my peers. I told myself I was going to do the full college experience. MCC brought me out of my shell and helped me find who I am meant to be."
As a member of the Freemason fraternity, where philanthropy is first and foremost, Chris dedicates his time to making a difference.
Valeria "Val" Krokhmalyuk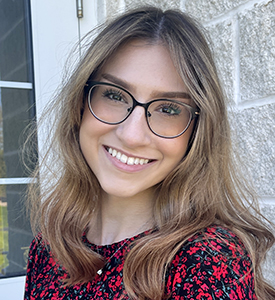 As the Russia-Ukraine war escalated in early 2022, Valeria "Val" Krokhmalyuk could not sleep well or focus on her studies at Monroe Community College. She worried about the safety of her aunts, uncles and cousins living in Ukraine and would call or text them for developments every chance she got.
"Over time, it took a toll on me because I wanted to keep in touch every second. I faced a drop in my grades and an overall worsening of my mental state," said the 21-year-old Greece, NY, native, who a year ago was named to the dean's list.
Through the steady support of her MCC family – particularly Professors Thomas Blake and Scott Rudd, her counselors, and friends she made through the Phi Theta Kappa (PTK) honor society – Val ultimately overcame her struggles and finished the semester strong. Her mental health improved, especially after her relatives fled and resettled in other parts of Europe. In fall 2022, Val reset her goals and immersed herself in on-campus and community activities grounded in human rights advocacy.
"I became heavily involved in the community service projects my PTK team was doing, as well as in the Holocaust, Genocide, and Human Rights Project," said Val, who leads the MCC chapter of PTK and is a member of HGHRP. For example, her efforts in one of the HGHRP activities focused on keeping a record of human rights abuses and violations committed in Ukraine during the war. "It's been a lot to write about. I still do get emotional, but it's good for me," she said. "I'm taking the time to educate myself."
On May 25, Val will graduate with three credentials: an associate degree in individual studies with a concentration in communication, a certificate in advanced studies, and a microcredential in Holocaust, Genocide, and Human Rights Studies – on top of having received the 2023 SUNY Chancellor's Award for Student Excellence. She plans to pursue an advanced degree in media communication.
"MCC is full of opportunities, because I've utilized most of them," said Val, who will be the latest in a long line of proud alumni in her family. "The honors program at MCC puts me at an advantage when I transfer. And being able to receive four scholarships at MCC, I'm forever grateful. MCC has given me so much."
Elle Parrotta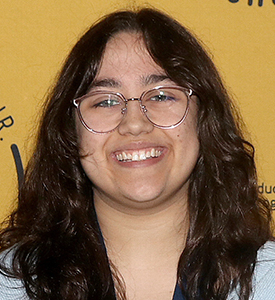 The youngest of nine children, 21-year-old Elle Parrotta of East Rochester will be the first in her family to graduate – with distinction – from college. Helping her reach the finish line of her two-year journey at Monroe Community College, in the face of personal challenges are her proud parents, the supportive and caring Educational Opportunity Program (EOP) staff and her professors, who kept her focused on her goals.
With the EOP community's support, she overcame personal issues, including food insecurity, mental health challenges and school-family balance. At home, she is often responsible for caring for her young nieces and nephew and running errands for her parents.
"EOP has helped me so much, especially my counselor Nicole Reinholtz. She is always there when I need her. She gives me the best advice," said Elle, who enrolled in MCC after taking a gap year to work and save money for college. "Without her, I don't think that I would have had the confidence in myself and in what I want to do to succeed and get the grades that I have."
A recipient of three scholarship awards, Elle is among 46 SUNY students who were recently honored with the Norman R. McConney, Jr. Award for Student Excellence for their academic merit and strength in overcoming personal obstacles. "My parents have been incredibly supportive throughout my time at MCC," she said. "They have been crucial to my success."
After earning an associate degree in liberal arts and sciences-general studies in May, Elle will continue her education in the fall at Rochester Institute of Technology, majoring in English and philosophy. An active participant of the Whimsical Bonus Book Club, a student-led group that was born out of a fantasy literature class at MCC last semester, Elle is passionate about writing, telling stories and drawing, especially creating narrative-driven comics.
"I've never stopped reading since I was really little, and I've always loved books," she said. "As long as I get to write and be creative, engage with narratives, and make something and inspire people – that's probably my biggest goal."
Kay Wilkoff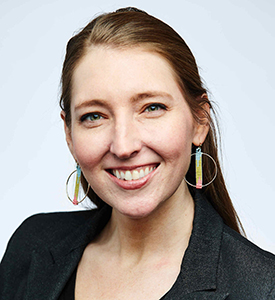 A full-time Monroe Community College student, Kay Wilkoff is a 35-year-old "retired" social worker with a background in child protective work and a bachelor's degree.
"With dreams to own a home and have more financial stability in planning for the future, like many families during the past three years we felt life shift," she said. "We experienced insecurities and we dreamed of a work-life balance for our growing family."
With renewed hope and aspirations, she enrolled in MCC's optical systems technology program in fall 2021.
"I heard about MCC's optical systems technology program from a neighbor," said Kay, who became a full-time, stay-at-home mother after moving to Brighton from Colorado in 2014. "I chose the optics field after hearing about the 100 percent job placement with so many local and national companies seeking more optical technicians. The optical systems technology degree enables a rewarding career that makes good money with benefits. MCC created a pathway for me to explore my STEM interest and channel my career aspirations into a real and rewarding career."
While at MCC, Kay was a recipient of four scholarship awards and was consistently named to the dean's list with a perfect GPA.
At Commencement, her biggest supporters will be cheering her on. She and husband Ephram are foster, adoptive and biological parents to four children ages 17, 10, 5 and 2 and have parented more than 25 children over the past decade.