In partnership with the Visiting Scholar Series, the Holocaust Genocide, and Human Rights Project presents
Women, War and Peace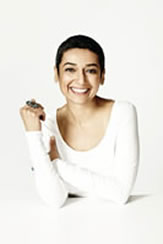 8th Annual Voices of Vigilance Program
Featuring Zainab Salbi, author and founder of
Women for Women International, a grassroots
humanitarian and development organization
that helps women survivors of wars and conflicts rebuild their lives.
Damon City Campus Presentation
Open to Students, Faculty & Staff with MCC ID Only
Wednesday, February 26, 2014
Noon
Damon City Campus, room 4193
Tickets are not required.
Brighton Campus Presentation
Open to the College Community & the Public
Wednesday, February 26, 2014
7 pm
Warshof Conference Center,
R. Thomas Flynn Campus Center
Tickets: $7 general public; free to MCC students, faculty and staff
Ticket required; available online at www.monroecctickets.com
Zainab Salbi is the founder of Women for Women International and served as the organization's CEO from 1993-2011. Since 1993, the organization has helped more than 316,000 women survivors of wars access social and economic opportunities through a program of rights awareness training, vocational skills education and access to income-generating opportunities, thereby ultimately contributing to the political and economic health of their communities.
Salbi is the author of two books; a national bestseller "Between Two Worlds: Escape from Tyranny: Growing Up in the Shadow of Saddam" (with Laurie Becklund) that documents her life under Saddam Husseins's rule and "The Other Side of War: Women's Stories of Survival and Hope." Her works has been featured in major media outlets, including The Oprah Winfrey Show, CNN, The Washington Post and The New York Times.
In 2001 Salbi was named one of the Top 100 Women: Activists and Campaigners by The Guardian and as one of the 100 Extraordinary Women Who Shake the Word by Newsweek and The Daily Beast. She is a World Economic Forum Young Global Leader and is a member of the UN Secretary General's Civil Society Advisory Group focusing on the UN Security Council Resolution 1325. She earned a master's degree from the London School of Economics and Political Science and a bachelor's degree from George Mason University.