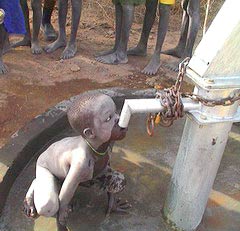 Each year, the HGHRP raises funds to support Water for South Sudan through its Walk for Water and other special events. We are proud to support Salva Dut, founder of Water for South Sudan, who is also a member of the MCC Alumni Hall of Fame! To date, our efforts have raised nearly $69,000 in order to build fresh water wells in South Sudan. Wells were dedicated in MCC's name in 2010 and 2015. In 2016, a third well was dedicated in the names of MCC and Avon Middle School. Thank you for walking with us and helping us change lives in South Sudan!
11th Annual Walk for Water for South Sudan
Saturday, October 13, 2018
Registration opens at 9:30 a.m.; walk begins at 10 a.m.
Parking available in Lot G
MCC Stabins Physical Education Complex
Brighton Campus, 1000 East Henrietta Road, Rochester
Register, Start a Team and/or Donate Online
Money is due the day of the walk, October 13. Prizes for the top fundraisers will be awarded the same day!
* 1st Prize: Reception with Salva Dut, WFSS founder and senior advisor
* 2nd Prize: Meet with Salva
* 3rd Prize: Photo with Salva
Salva is also a member of the MCC Alumni Hall of Fame!
Why take action and help change lives in South Sudan?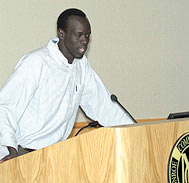 Each day, hundreds of thousands of Sudanese walk for hours through desert to collect water. The water they drink is often contaminated with parasites and bacteria and, as a result, disease runs rampant throughout greater East Africa. Water for South Sudan drills wells that provide clean drinking water for the thirsty. This effort helps to prevent disease and stabilize villages … and lives.
According to Salva Dut, "The challenge is enormous to those of us who uphold the sanctity of human life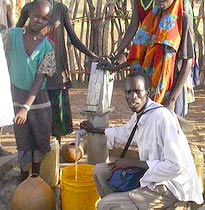 and the moral imperative to provide water to the thirsty. Fresh water is absolute requirement for a community's health. It is a stable developmental platform on which a community can build its future. It is, in short, life.
Support Water for South Sudan through the HGHRP. Send your gift to the Holocaust, Genocide, and Human Rights Project at MCC, Attn: Sharon Scurlock, 1000 East Henrietta Road, Rochester, NY 14623 or contribute online.