Yom HaShoah is also known as Holocaust Remembrance Day. "Shoah," which means catastrophe or utter destruction in Hebrew, refers to the atrocities that were committed against the Jewish people during World War II. This is a memorial day for those who died in the Shoah.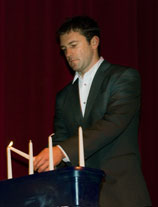 Save the date!
Thursday, April 23, 2015
9:30 am to 3:30 pm
R. Thomas Flynn Campus Center Atrium
Free and open to the public.
Parking is available in Lot N.
Our commemoration typically includes:
Opening Ceremony

Calling of the Names & Candle Lighting

Local Holocaust Survivor Testimonies

Please viIn 2010, MCC celebrated its 20th Anniversary Yom HaShoah—bringing together students, alumni, community supporters and Holocaust survivors for a poignant celebration. Following a formal dinner served by MCC Hospitality students, Marcia Sachs Littell, Ph.D., founder, Holocaust and Genocide Studies Program,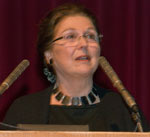 The Richard Stockton College of New Jersey, presented Transformation through Holocaust Education: Breaking the Silence. In honor of the 20th anniversary, Dr. Littell also presented her original paper on the topic as a gift to MCC.