Meet the 2018-19 Peer Navigators!
We want to make your experience at MCC successful and engaging!
We are here to support and encourage you. If you have a question, we can assist you in finding the right answer. Visit us any time in the FYE and Orientation Office (3-129) or the Admissions Office (1-211) or The Office of Campus Life, Suite 218 at the Downtown Campus.
Over the semester, we will present numerous programs: social activities to meet new friends, life skills workshops and more. Take a look at some our upcoming events!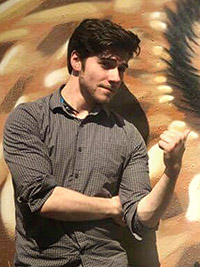 Kevin
There are two things that Kevin Nestler's friends wish he'd stop doing: his impressions of Kronk from "Emperor's New Groove" and Kermit the Frog. He does them anyway. When Kevin was younger, he was really into Spiderman. "He's clearly the best superhero anyone has ever created," said Kevin. "I'll thumb wrestle anyone who disagrees! I had the action figures and the web slinging wrist toy-thing, and basically all the comics from the '90s." An MCC Communications major whose long-term goal is to work in the entertainment industry, Kevin was homeschooled. MCC was a safe, local option to test the waters and experience a classroom setting for the very first time.
Kevin's advice to a new MCC student? ""Say hi to people you recognize in the hallway even if you don't know their names. Don't pretend to look at your phone and not notice them! You're going to see the same people over and over again for the next two years, so make friends with EVERYONE!"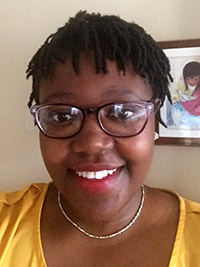 Ngonda
Ngonda Chiboleka, a Human Services major, grew up in Kabwe, a small mining town in central Zambia. The single mother of beloved son John, Ngonda intends to run her own private practice and work as a mental health therapist. "I want to continue educating and promoting the importance of mental health awareness, especially in women who have gone through traumatic experiences and are ready for a fresh start," she said. Juggling the responsibilities of parenthood and full-time classes on a very tight budget has been the most difficult part of her transition to college. "I took a leap of faith knowing that my dreams are way bigger than any obstacles I can ever face."
Ngonda's advice to a new MCC student? "You have the opportunity to live out your calling. Figure out what you were put on this earth to do… Work hard, set high but achievable goals and ask for help even when the situation does not pertain to academics -- still reach out and ask for help."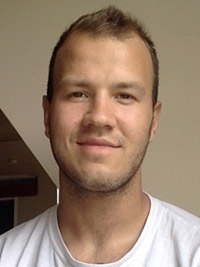 Nick
Nick Bernier, a Liberal Arts and Sciences: General Studies major who attended Victor Senior High, is happy to be back in college. He chose MCC not only because it's one of the top community colleges in the nation – but because of the college's unbeatable price. The toughest part of transitioning from high school to college has been time management, but Nick is getting the hang of it. Aside from classes, homework and the responsibilities of being a peer navigator, he enjoys exercising, being outdoors, engaging in good conversations and broadening his horizons.
Nick's advice to new MCC students: "Do not be in a hurry."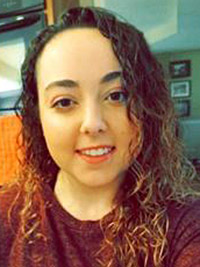 Alexis
According to Alexis Wetzel, the hardest thing about college is finding the perfect balance of job, social life and schoolwork. "It takes time," said the Churchville-Chili graduate who is majoring in Liberal Arts and Sciences: General Studies. "Organization is key." Long gone are the Hot Wheels cars and the Gameboy of her childhood. These days, Alexis enjoys working out and reading when she's not studying American Sign Language and working toward achieving her long-term goal of earning a master's degree. So, what makes for a good college experience? "Having a positive environment, making long-term friends, and being involved in the college community," she said.
Alexis's advice to a new MCC student? "College is no walk in the park, but as long as you focus on your work and have a positive outlook you can achieve your goals!"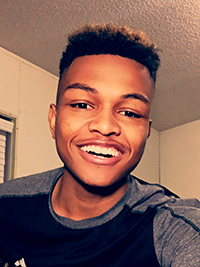 Jalen (Jae)
Jalen (Jae) Short, a Theater Arts major who grew up in Detroit, Michigan, has a plan. After graduating from MCC, he'll transfer, finish his education, and, eventually appear on Broadway or TV. "I have lofty goals for myself," he said. He played a lot of sports when he was younger and still enjoys an occasional basketball game with friends. However, these days Jae's favorite place to spend time is the MCC Theatre. "Probably… because it's a symbol of what's to come and the possibilities that can be created when you step on stage," he said.
Jalen's advice to a new MCC student? "Seize your destiny, work hard, and take pride in how you conduct yourself as a student."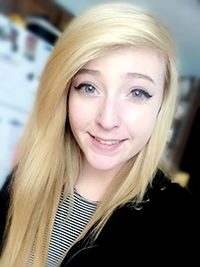 Kim
Introverted. Artistic. Opinionated. Those are the three words that Churchville-Chili grad Kim Dimino, a Visual Communications/Graphic Design major at MCC, chose to describe herself. This future video game developer who enjoys playing soccer, the guitar and, yes, video games, has an irrational fear of butterflies – but is even more scared of failure. Kim decided to attend college here because "it's affordable and close to home."
Kim's advice to a new MCC student? "Work hard, make yourself proud."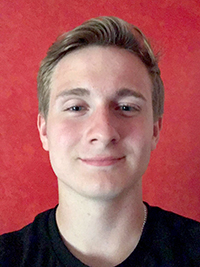 Sean
Criminal Justice major and future NYS Trooper Sean Brown attended Greece Arcadia High School and chose MCC because many of his family members are MCC alumni – and "It's close to home." That's fine with Sean for now. Eventually, he wants to pursue a bachelor's degree, travel the world, and wouldn't mind owning his dream car – a Tesla Model X. When he's not busy with college stuff, Sean enjoys fishing, hunting, and going to the gym. "I think the best thing about me is my willingness to listen and help others," he said.
Sean's advice to a new MCC student? "Start making a schedule for yourself if you haven't already."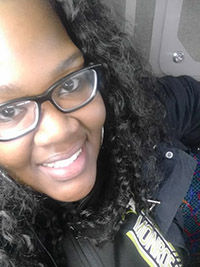 Brittany
Brittany Greene grew up in Rochester and attended Edison Tech. But it was the TV shows – the health channel and the real ER stories that helped determine her future goal of becoming a nurse or, possibly, even a doctor. Her transition from high school to college wasn't easy. Brittany wishes she had gone on the available tours and attended orientation. "I was given a schedule and had no idea where to go," she said. Now she's happy helping other students have a better experience. "… I love to be around people, and I love to help them out.".
Brittany's advice to a new MCC student? "Never be afraid to ask for help."