Human Services
50% or more of this program can be completed online.
This human services program prepares you to transfer to top schools and puts you to work in the field – from day one
Some learn by doing. At Monroe Community College, you'll learn by serving.
Our human services associate degree emphasizes hands-on experience. You'll start to work with community organizations and clients in your first semester, developing career-building knowledge and skills.
In just two years you'll have a strong foundation of experience and coursework, numerous options to transfer to four-year programs, and a great start toward a human services career.
Explore the Helping Professions in Human Services Internships
In the human services A.S. program, you'll explore the helping professions in the classroom and gain practical experience through internships at area agencies. Human services and social work professionals serve clients at a wide variety of organizations including child protection agencies, family counseling centers, hospitals, school, and probation departments.
Here are just a few of the local agencies where you could expect to learn and work:
ARC of Monroe
Community Place of Greater Rochester
Hillside Family of Agencies
Lifetime Assistance
Heritage Christian Services
Monroe County Department of Human Service
Rochester Hearing and Speech Center
Strong Memorial Hospital
Greater Rochester YMCA
The human services associate degree program gives you many opportunities to discover where you will have the greatest impact. You could start your career in jobs like these:
Family support worker
Crisis intervention counselor
Youth worker
Child advocate
Life skills instructor
Community outreach worker
Mental health aide
Substance abuse counselor
Build Your Resume with a Human Services or Social Work Bachelor's Degree
The human services A.S. program parallels the first two years of a bachelor's degree program and prepares you to transfer to a four-year institution in social work, human services, or a related area of study. Our graduates have continued their education at many other excellent schools, including:
SUNY Brockport
Roberts Wesleyan College
Ohio State University
Keuka College
Nazareth College
SUNY Buffalo
Empire State College
To find out more about the human services A.S. degree from Monroe Community College, contact the admissions office at admissions@monroecc.edu or (585) 292-2200.
Alumni Spotlight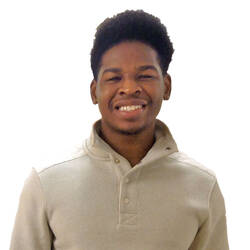 Christian Guity was eager to make the leap from high school to college and build a better life for himself. But after his freshman year, he was discouraged that his collegiate experience fell short of his expectations. Determined to earn a degree, he focused on overcoming academic and personal hurdles first.
In 2016, after a semester off from college, Christian enrolled in MCC. "I looked online for schools in the upstate New York area and saw that MCC was one of the top-rated schools in the country," he said. "I came to MCC with a different mindset. I came to the realization of what I needed to do to push forward."
Christian was soon connected to MCC's Educational Opportunity Program (EOP). The program combines access, academic support and supplemental financial assistance to make higher education possible for students.
MCC and EOP paved the way for his personal growth and success: He discovered his calling in human services, competed in MCC's 2017 Otis Young Motivational Speak-off, and served as president of the Black Student Union at the Downtown Campus in 2018-19.
"Throughout my life there was never a father figure to pass down wisdom to me," said 22-year-old Christian, who lost his parents at a young age and was raised by his aunt. "I feel that I need to dedicate my life to giving back and making sure I'm there for people."
Christian said he is grateful to his "many amazing teachers who see a light in me and want the best for me."
Christian's biggest supporter is his sister, MCC student Stephanie Guilin. Raised by aunts in separate homes after their parents' deaths, Christian and Stephanie have vowed to always be there for each other.
Christian transferred to University at Buffalo in fall 2019; Stephanie plans to join him there.
HUMAN SERVICES
A.S. Degree - Transfer Program
Department:Human Services
School(s): Community Engagement & Development
MCC Program Code: HU10
50% or more of this program can be completed online.
Description
The Human Services A.S. degree program prepares students to transfer and earn a Baccalaureate degree in Social Work, Human Services, or a related area, by providing both professional and general education courses, that help students understand the field academically and through applied learning. Students will explore the helping professions in the classroom and gain practical experience through internships at area agencies. Human Services/Social Work professionals find employment with various types of social agencies including child protection agencies, senior citizen centers, agencies that support people with disabilities, family counseling centers, hospitals, schools and probation departments.
(Housed in the Human Services Department)
Program Learning Outcomes
1) Identify generic helping skills utilized in the Human Services field.
2) Demonstrate as appropriate the helping skills utilized in the Human Services field.
3) Assess when the various applications of the Human Services helping skills are used effectively in an agency setting.
4) Apply good judgment and professionalism as supported in the "Ethical Standards of Human Services Professionals" in areas similar to but not necessarily: basic client rights to privacy, effective treatment, or ethical issues.
5) Document behaviors accurately in cogently written statements.
6) Develop an action-oriented Human Services assessment.
7) Conduct a thorough study of a community agency (including mission statement, agency history, organizational structure, and funding).
8) Define the various roles of a Human Services worker in providing services to clients in community agencies.
Employment Potential
For related jobs: Career Coach
Occupational Resource: https://www.onetonline.org
Distribution Requirements

Credit Hours

FIRST SEMESTER
ENG 101 College Composition (grade of C or higher required) OR
ENG 200 Advanced Composition (grade of C or higher required)

3

HUM 101 Introduction to Human Services (grade of C- or higher required)

4

HUM 111 Field Work in Human Services I (grade of C- or higher required)

2

SOC 101 Introduction to Sociology

3

PROGRAM ELECTIVE*

3

First Semester Total:

15

SECOND SEMESTER
HUM 102 Basic Helping Skills (grade of C- or higher required)

4

HUM 112 Field Work in Human Services II (grade of C- or higher required)

2

PSY 101 Introduction to Psychological Science

3

SUNY GENERAL EDUCATION - HUMANITIES (SUNY-HUMN) ELECTIVE

3

Any HED course

2-3

PSY 108 Fundamentals of APA Style

1

Second Semester Total:

15-16

THIRD SEMESTER
MTH 160 Statistics I

3

BIO 133 Human Biology AND BIO 132 Laboratory to Accompany Human Biology

4

HUM 201 Models of Helping (grade of C- or higher required)

4

HUM 211 Field Work in Human Services III (grade of C- or higher required)

2

OPEN ELECTIVE

2-3

Third Semester Total:

15-16

FOURTH SEMESTER
SUNY GENERAL EDUCATION - WORLD LANGUAGES (SUNY-WLNG) ELECTIVE

3

SPC 142 PUBLIC SPEAKING OR
SPC 143 SMALL GROUP COMMUNICATION

3

SUNY GENERAL EDUCATION - SOCIAL SCIENCES (SUNY-SOCS) ELECTIVE

3

PROGRAM ELECTIVE*

3

HUM 218 Working with Trauma Informed Care Skills

3

Fourth Semester Total:

15

TOTAL CREDITS:

60-62
*Choose any ACD or ECE courses, or any of the HUM courses not already required (with the exception of HUM 100, ECE 110, or ACD 246)
Revised 6/23/2023