Geology - The Scientific Study of the Earth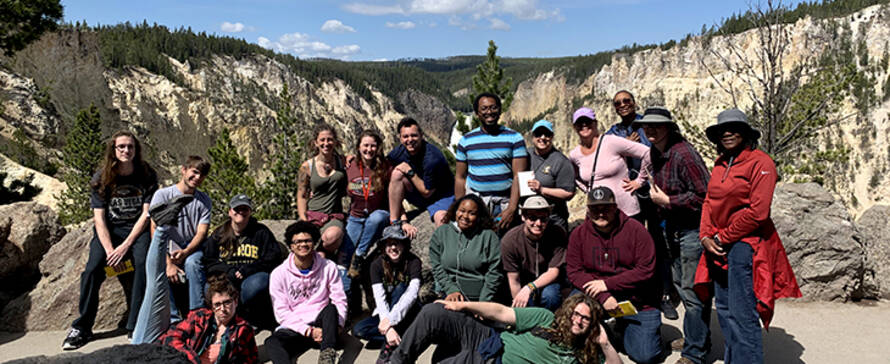 Fall 2023: Physical Geology (GEO 101) On-Campus and in the Field!
GEO 101/Physical Geology fulfills the SUNY Natural Science Gen Ed requirement and meets:
Lecture: Tues/Thurs 12:30pm to 1:45pm
Lab Options: Wed 1pm to 3:50pm or Thurs 9:30am to 12:20pm
If you've already completed GEO 101, take GEO 200 - Geology of the National Parks during Fall 2023!
Lecture: Mon/Wed/Fri 11am to 11:50am
Lab: Mon 1pm to 3:50pm
What will I learn about in MCC geology courses?
MCC Geology students can study volcanoes, minerals, rocks, fossils, oceans, stars, planets, natural disasters, mountain formation, water resources, local and global landforms, and how all of these are connected to humans, society, and the environment.
Where can I learn geology?
MCC offers geology courses that allow students to learn in the classroom (on-campus, remote, and/or online) and also in the field - which can be anywhere from an outcrop of 450 million year old rocks along the Genesee River to a wind and solar farm along the Lake Ontario shoreline to the slopes of the Adirondack Mountains to the supervolcano in Yellowstone National Park!
How can I start my geology journey?
Enroll in Geology 101 - Physical Geology on-campus or online!
From there, pursue the A.S. in Geology and/or take any additional geology courses of interest offered at MCC.
What can I do after MCC?
Many MCC Geology A.S. graduates transfer to complete a Bachelor's degree. Upon completion of their undergraduate degree, they are then are employed in the environmental industry, resource exploration, hazard assessment, education, and many additional career paths.