Beyond Academics: Supporting Holistic Student Readiness
Essential Discussions at MCC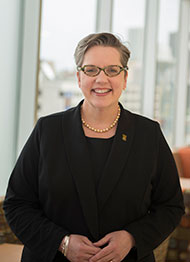 Higher education is no longer "one size fits all."
Monroe Community College builds upon its Essential Discussion on guided pathways with a thought-provoking exploration of the non-academic barriers to student achievement. Join us on Wednesday, March 7, 2018 to discover new ways to assess students' developmental needs and to transform students into more confident, focused learners for life.
MCC is honored to welcome national thinkers and researchers Jacquie Beaubien from Stanford University and Kevin Li from Triton College to MCC, along with panelists representing SUNY colleges and area school districts.
Our discussion is supported by a SUNY Conversations in the Disciplines grant. The grant program focuses on scholarly and creative activities, new developments in academic disciplines and fields, and the examination of related curricular innovations. .
We look forward to welcoming you to MCC in March.
Anne M. Kress, president
Monroe Community College
Presentations from the March 7, 2018 colloquium are available for viewing using the links below: