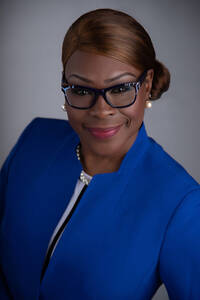 DeAnna R. Burt-Nanna, Ph.D., is the sixth president of Monroe Community College. Her professional experience in business, industry, and higher education spans more than three decades. Her leadership has served as a catalyst for equitable pathways to socioeconomic mobility for individuals in New York, Minnesota, and Michigan.
Building on an educational foundation that includes degrees in computer information systems, business administration, and educational leadership, Dr. Burt-Nanna is nationally recognized for advancing student success, innovation, operational efficiency, organizational culture change, and creating college-going cultures in communities where she has served. She is a passionate advocate for and a frequent speaker on the importance of diversity, equity, and inclusion; educational access and attainment; and workforce development at local, state, and national levels. She embraces opportunities to build early connections with faculty and staff in celebrating their work and strategically forms collaborative partnerships with educators and employers to transform lives and create opportunities through public higher education.
Her impressive record of volunteerism, philanthropy, and board/council service ranges from the Community Foundation for Muskegon County in Michigan to the YWCA Mankato in Minnesota. Dr. Burt-Nanna serves on the board of directors for the Greater Rochester Enterprise, Greater Rochester Chamber of Commerce, United Way of Greater Rochester and the Finger Lakes Region, and the Monroe Community College Foundation. In addition to sitting on the executive board of the New York Community College Association of Presidents, she is a New York gubernatorial appointee on the Finger Lakes Regional Economic Development Council's Executive Committee, serving as co-chair of the Council's Workforce Development Work Group. She also serves as an appointee to the regional M&T Bank Directors Advisory Council.
On a national level, Dr. Burt-Nanna serves on the American Association of Community Colleges Commission on Structured Pathways, the board of directors for the League for Innovation in the Community College, the American Graduate: Path to the Future National Advisory Group, and is a member of The Aspen Institute College Excellence Program's Workforce Speakers Bureau. She has received numerous awards and recognitions for her transformational leadership and has successfully secured grants and philanthropic support for the organizations she serves.
Since assuming the helm at MCC in 2021, Dr. Burt-Nanna has been recognized among the Rochester Business Journal's 100 significant power players in the region and among 50 local Women of Excellence noted for professional experience, community involvement, leadership and sustained commitment to mentoring. She is also the proud recipient of the Rochester-based University Preparatory Charter School for Young Men's Woman of Substance Award and the Young Women's College Prep Foundation's Leadership Honoree Award, both for her transformational work within the local community.
Born and raised in Muskegon Heights, Michigan, Dr. Burt-Nanna holds doctoral, master's, and bachelor's degrees, all from Western Michigan University (Kalamazoo, Michigan). She is an Aspen Presidential Fellow (2020-2021), a Thomas Lakin Institute for Mentored Leadership Fellow (2019), and an Association for the Study of Higher Education/Lumina Foundation Fellow (2008-2009).