Board of Trustee Members

Allen K. Williams - Chair
Gubernatorial Appointment (2012-2024)
Mr. Williams is the current Chair of the Board of Trustees of Monroe Community College. He is also Chair of the New York Community College Trustees Association (NYCCT). NYCCT is the statewide organization that represents the 30 community colleges in the State University of New York (SUNY) system. He is the former Chair and Program Coordinator for the Rochester Joint School Construction Board (RJSCB). The RJSCB was created the by the Rochester School Facilities Modernization Act, a $1.3 billion program which renovates schools in the Rochester City School District to bring them up to 21st century learning standards. Mr. Williams is the former Director of Special Projects and Education Initiatives for Rochester Mayor Lovely Warren. Mr. Williams has nearly 30 years of financial, accounting and pension planning experience. He was the Chief Financial Officer for Brown & Hutchinson, the largest minority owned law firm in New York State. He has worked at TIAA-CREF, JP Morgan & Co. and the United States International Trade Commission. As the Director of Special Projects and Education Initiatives, he was responsible for a variety of the mayor's initiatives centered on early childhood learning, literacy and job readiness. He is also a strong supporter of education, having served as an adjunct instructor in MCC's Business Administration and Economics Department and as a commissioner on the Rochester City School District Board of Education. He also served on the boards of WXXI Public Broadcasting, the Jordan Health Center, Action for a Better Community, the Landmark Society of Western New York and the Rochester Child Care Council. Mr. Williams earned an MBA from University of Chicago's Booth School of Business and a bachelor's degree from University of California, Irvine.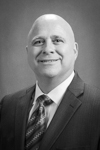 Daniel M. DeLaus, Jr., Esq. - Vice Chair
Local Appointment (2020-2028)
Mr. DeLaus is Chief Legal Counsel for Rochester-Genesee Regional Transportation Authority. He represents the Authority in all legal and regulatory matters and transactions. Mr. DeLaus began his career in the Monroe County Public Defender's office and then moved on to private practice. He returned to county government in 2004 as County Attorney. Five years later, County Executive Maggie Brooks appointed him Deputy County Executive, her chief policy advisor and senior staff member. He serves on the board of directors and is treasurer for Common Ground Health focusing on community health issues via data analysis, community engagement and solution implementation through community collaboration and partnership. He serves on the Policy Working Group and System Integration Project Legal Group for the Rochester-Monroe Anti-Poverty Initiative (RMAPI) which is a multi-sector community collaborative with a goal to improve quality of life by reducing poverty and increasing self-sufficiency. Mr. DeLaus chairs the Town of Penfield Zoning Board of Appeals. He holds a juris doctorate degree from the State University of New York at Buffalo and a bachelor's degree in history from the University of Notre Dame. He is a member in good standing of the Monroe County Bar Association.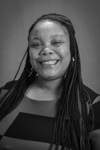 Sabrina LaMar
Local Appointment (2022-2025)
Ms. LaMar serves as president of the Monroe County Legislature and represents the 27th District, composed of Rochester's 19th Ward where she resides with her family. She was appointed and then elected to the Legislature in 2019 and re-elected in 2022. A Rochester native, she serves as CEO of PUSH Publishing and assistant director for Rise UP Rochester. She also works as project coordinator for the Community Engagement to Reduce Victimization at Rochester Institute of Technology's Center for Public Safety Initiatives. Ms. LaMar graduated from Rochester Business Institute and has worked as an accountant for 20 years. In addition to chairing the ROC Against Gun Violence Coalition's education committee, she is a member of the 19th Ward Association, Baber AME Church, Roc The Peace, and Black Excellence/Juneteenth Planning Committee. She works alongside community partners in developing and implementing programs that effect change.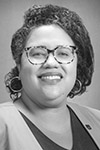 Daniele Lyman-Torres - Secretary
Local Appointment (2022-2025)
A member of the MCC Alumni Hall of Fame, Dr. Daniele Lyman-Torres is the President and CEO of Bivona Child Advocacy Center where she leads a multidisciplinary team focused on supporting children impacted by abuse. A proven health care and human services leader, Dr. Lyman-Torres previously served as Commissioner of Recreation and Human Services for the City of Rochester and as President and CEO of the Arc of Yates among other roles. Dr. Lyman-Torres also serves on the board for the Center for Governmental Research. She holds a doctorate of education in executive leadership from St. John Fisher University, master of science and bachelor of science degrees from Roberts Wesleyan University, and an associate degree in liberal arts and sciences from MCC. In addition to serving as an MCC Trustee, she instructs doctoral candidates as a Visiting Assistant Professor at the Ralph C. Wilson, Jr. School of Education at St. John Fisher University.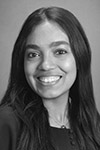 Ana Silvia Santos
Student Trustee (2023-2024)
Ana Silvia Santos, who is pursuing an associate degree in psychology, aspires to become a clinical psychologist. Having always been drawn to the complexity of the brain and human behavior, Ana's study of psychology brings together her combined passions for helping people and advocating for mental health and well-being. An active member of the campus community, she is the secretary of governance for the Student Government Association, a member of MCC's Alpha Theta Iota chapter of Phi Theta Kappa honor society, a member of Campus One80 organization and a resident assistant with the Housing and Residence Life team.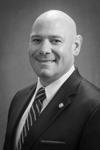 Dale R. Rehkopf II
Local Appointment (2019-2028)

Mr. Rehkopf is a United States Army veteran and an Edward Jones financial advisor. He has over 17 years of experience specializing in retirement, education, and risk management planning. He holds the Certified Financial Planner (CFP®), Master Planner of Advanced Studies (MPAS®), Chartered Life Underwriter (CLU®), and Accredited Asset Management Specialist (AAMS®) designations. Mr. Rehkopf has been responsible for the talent acquisition, training, operations, and practice management of Edward Jones financial advisors throughout Western New York. He earned a master of science degree from the College for Financial Planning® and a bachelor of science degree from the United States Military Academy at West Point.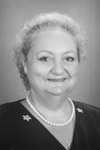 Carla M. Palumbo, Esq.
Gubernatorial Appointment (2016-2022)
Ms. Palumbo is the president and CEO of the Legal Aid Society of Rochester with over 30 years of experience as attorney. She has spent much of her career with the organization advocating for domestic violence victims and access to justice for the most vulnerable in our community. Previously, she served on the Monroe County Legislature, including two years as minority leader of her caucus, and on the Rochester City Council, representing Northwest Rochester. During her time on the Council, she chaired the Neighborhood and Business Development Committee. In addition to her public service, she is the co-author of the third and fourth editions of The Law of Sex Discrimination. Ms. Palumbo's community involvement includes serving as the immediate past president of the board of Mary's Place and as a board member of the New York Bar Foundation, which has named her a lifetime fellow. She holds a juris doctor degree from Syracuse University and a bachelor's degree in Spanish and Italian education from SUNY Albany.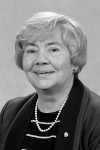 Grace S. Tillinghast
Local Appointment (2009-2027)
Mrs. Tillinghast is co-owner of The Battery, a baseball and softball training facility in Gates, and a former Eastman Kodak Company executive. In addition to her extensive career in public affairs and communications at Kodak, she was co-host and co-producer of "Que Pasa Rochester," WXXI's Spanish-language news program, for 16 years. An area resident for nearly 40 years, she is a longtime advocate of the Hispanic community. Presently, she serves on the boards of the Rochester Hispanic Business Association, the Arts and Cultural Council for Greater Rochester, the Joseph A. Floreano Rochester Riverside Convention Center and the Rochester Police Department Do the Right Thing program. Fluent in five languages, she has lectured and published throughout the world about the use and abuse of the Spanish language. Ms. Tillinghast's education includes certification in elementary and secondary education from Tomas Godoy Cruz Teachers' College; certification in English, University of Michigan; certification in Italian, Dante Alighieri Institute; and certification in corporate community relations, Boston College School of Management.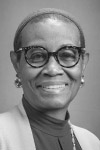 Connie O. Walker, Esq.
Gubernatorial Appointment (2021-2026)
Ms. Walker is retired as a career law clerk with the U.S. District Court for the Western District of New York. Her legal career spanned over 30 years, beginning as a criminal law associate in the Monroe County Public Defender's Office and advancing to assistant public defender and later to senior deputy county attorney in the Monroe County Law Department. She also worked as a law clerk for the Rochester City, Monroe County and Supreme courts. Her community involvement includes serving as board chair of the Greater Rochester Health Foundation and advisory board member of the 7th Judicial District Restorative Justice Project. Ms. Walker is honored to be a past president of the Monroe County Bar Association and a current member. She holds a juris doctor degree from Syracuse University, along with bachelor's and master's degrees from SUNY Brockport and state certification in elementary education.