MCC Cycling Council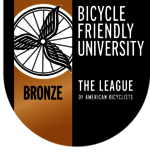 MCC is designated as a bronze level member of the Bicycle Friendly University Program sponsored by The League of American Bicyclists. The Bicycle Friendly University program recognizes institutions of higher education for promoting and providing a more bikeable campus for students, staff and visitors. The program evaluates efforts in bicycling in five primary areas known as the Five Essential Elements, or the 5 E's.
The 5 E's of a Bicycle Friendly Campus are:
Equity, Diversity & Inclusion (EDI): A Bicycle Friendly America for Everyone
Engineering: Creating safe and convenient places to ride and park
Education: Giving people of all ages and abilities the skills and confidence to ride
Encouragement: Creating a strong bike culture that welcomes and celebrates bicycling
Evaluation & Planning: Planning for bicycling as a safe and viable transportation option
In-depth information about each of these criteria is available on the Bicycle Friendly America℠ web page.
For questions about the MCC Cycling Council, please email Jim Downer, Steerman of the MCC Cycling Council (jdowner@monroecc.edu).
Cycling Council Members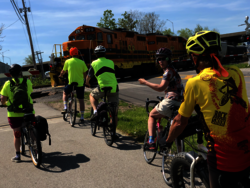 Jim Downer: Steersman and Navigator; Sets direction for the Cycling Council.
Designer of Marketing and Visuals: Art directs advertisements.
Kathy Farrell: Spokesman; Promotions and Announcement Liaison: Gets the word out.
Jason Flack: Wrench; Secretary of History and Navigational Assistance.
TBA: Stokers, Ride Captains, Club Organizers.
The Cycling Council's Meeting Manifesto
Let it be said…
Meetings will never be scheduled; they will take place if and when needed.
Meetings will take place wherever and whenever two or more members of the counsel need one.
Meeting attendance is not mandatory.
Meetings can be attended by anyone. Everyone is welcome; meetings are inclusive.
Meetings will never have more than three agenda items and no less than one.
Meetings agenda items will be determined at the meeting.
Meetings will never take more time than needed.
Meetings may be virtual, through text, e-mail or FaceTime.
Meetings will adjourn when the second to last council member leaves.
Meeting minutes may be kept as words or images, sketchbook drawings or photographs.
Cycling benefits everyone.