Meet the 2018-19 Peer Navigators!
We want to make your experience at MCC successful and engaging!
We are here to support and encourage you. If you have a question, we can assist you in finding the right answer. Visit us any time in the FYE and Orientation Office (3-129) or the Admissions Office (1-211) or The Office of Campus Life, Suite 218 at the Downtown Campus.
Over the semester, we will present numerous programs: social activities to meet new friends, life skills workshops and more. Take a look at some of our upcoming events!
Thomas
Health Information Technology major Thomas Gerwitz studies here because MCC offered the program he was looking for at a great price. Tom is transitioning to college life after being out of school for a while. When not busy studying, he enjoys camping, hiking, hockey and hanging out with his dogs. He doesn't like snakes, but loves Thanksgiving. "It's all about the food and family," he says. His dream car is a 1965 Pontiac GTO.
Thomas's advice to a new MCC student? "Put in the work to get the results you want."
Ashley
Ashley Hampton, a mom and an Early Childhood Education major, has a goal. She wants to open up a center for young children. "I love helping others," she says. Growing up in Rush Henrietta, Ashley was into sports and writing. These days, her life revolves around her kids and earning a college degree.
Ashley's advice to a new MCC student? "Don't be afraid to meet new people and ask questions – that's how you'll find out what MCC can offer you."
David
Greece Arcadia High School graduate and Cinema & Screen Studies major David Caraballo wants to entertain everyone who enjoys horror movies. His ambition is to be a movie director. According to David, attending MCC has given him the time to make more money and save up for what he wants to do in life.
David's advice to a new MCC student? "Be ready to face any challenges that come along. If you fall, just pick yourself back up and keep going!"
Nathaniel
Greece Olympia High School graduate Nathaniel Harvey, a Human Services major, thinks a great college experience includes engaging in college life – "making friends and associates for the future." Nathaniel came to MCC for the wonderful staff and students and the college's wide range of classes. So, what gets him fired up? "Life – every single morning," he says.
Nathaniel's advice to a new MCC student? "Listen, learn and achieve."
Penelope
Human Services major Penelope Andrews graduated from Edison Career and Technology High School. She chose MCC because it's affordable and convenient and because it's a great school. Penelope describes herself as "persistent, motivated and sociable." The toughest part of her transition to college has been developing an academic work ethic. "It was easy for me to pass without studying in high school," she says. "I started college and assumed that this method would work the same – and it didn't."
Penelope's advice to MCC students? "Learn as much as you can about time management and how to budget your time with work, school and your personal life."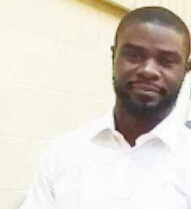 Peter
Peter Rogers, a Human Services major, has one goal: to be an agent of change in his community through social work, legislative advocacy and community planning. Peter is happy to finish his degree and proud that he recently purchased his first house. He's grateful to "wake up every day and make a difference however I can in the community."
Peter's advice to a new MCC student? "Remember that mountains don't move unless you make them."
Samantha
Samantha Lasher, a Liberal Arts and Sciences major, has a goal. She wants to pursue zoology at SUNY Oswego or environmental science at a college like the SUNY College of Environmental Science and Forestry. "I would love to work with animals in wildlife conservation or in other efforts like boosting the numbers of a threatened species," she says. Despite her love of animals (she once rescued a baby opossum), she has an irrational fear of spiders – in particular, daddy longlegs.
Samantha's advice to a new MCC student? "Join a club or organization to meet new people. Get to know your professors and don't be afraid to ask for help when you need it. Finally, utilize the resources provided by MCC – the tutoring center, the food bank or the career center."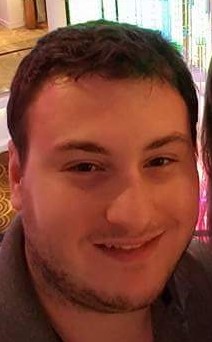 Johnathon
Penfield High School graduate and Criminal Justice major Johnathon Volz chose MCC because it was convenient to attend and the most affordable option. Once he arrived here, Johnathon realized that MCC is more than that. "It's an exceptional choice for my major," he says. He loves to hike and explore the outdoors, but when it's time to study, Johnathon heads to a very different place. "The computer lab is nice and quiet for some serious work grind," he says.
Johnathon's advice to a new MCC student? "Put everything to the side until you learn how to be successful and efficient with each class. Don't procrastinate."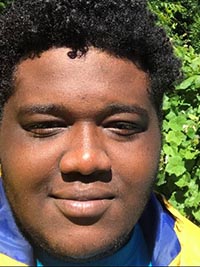 Kristian
Kristian Graham is a Communication and Media Studies major who thinks a good college experience involves an encouraging environment, a healthy social life and balancing school with other outside forces. When he was younger, Kristian was a huge anime/manga fan. Now already a producer and radio technician, this Bishop Kearney graduate eventually wants to create his own visual marketing company. So, why did Kristian choose MCC? "It's a great institution [where I can] establish a good solid foothold on what I want to make out of my college career and beyond."
Kristian's advice to a new MCC student? "Don't be afraid to initiate a conversation with someone."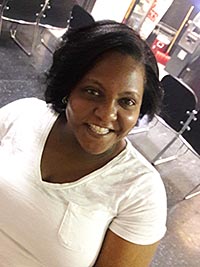 Denise
Denise Walker, who is majoring in Liberal Arts, had been out of school for over 20 years when she made the decision to begin at MCC. Transitioning to college has been challenging, but Denise keeps on smiling and focuses on her end goal of becoming a registered nurse. "I'm always smiling," she said. "I always put my best foot forward." Aside from being a busy college student, Denise spends her time being a supportive asset to her family and enjoys being a positive role model. She says, "Knowing that my family and friends receive the best that I can give – that gives my life meaning."
Denise's advice to a new MCC student? "Stay focused on your goal!"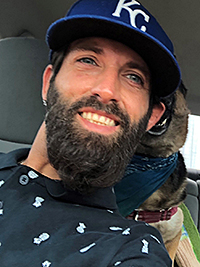 Jason
MCC Construction Technology major Jason Houston is learning as much as he can about construction and energy off-grid living. He chose MCC because of the convenience of the Downtown Campus. His favorite movie is "A Bronx Tale," his favorite TV show is "The Office" and his favorite word is "qat" because "you can use a q without a u in Scrabble." Jason is most grateful for the opportunity to have traveled the world, meeting people from different places and perspectives. While the best advice he's ever been given is "Don't burn bridges," he has a different message for incoming Tribunes.
Jason's advice to a new MCC student? "Set yourself up for success by properly planning."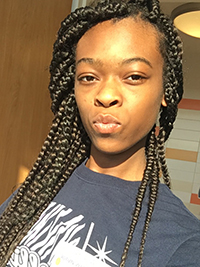 Tiaujah
Rochester native and Psychology major Tiaujah Robinson wants to earn a bachelor's degree and eventually attend Georgetown Law. The library study rooms are her favorite place at MCC. "They're great for independent work or if you need to collaborate as a group," she says. "I like to go there during breaks in my schedule." Known by friends and family as "the life of the party," Tiaujah loves to make people laugh. "I'm a character," she says.
Tiaujah's advice to a new MCC student? "Stay focused. College is full of distractions."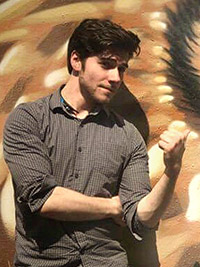 Kevin
There are two things that Kevin Nestler's friends wish he'd stop doing: his impressions of Kronk from "Emperor's New Groove" and Kermit the Frog. He does them anyway. When Kevin was younger, he was really into Spiderman. "He's clearly the best superhero anyone has ever created," said Kevin. "I'll thumb wrestle anyone who disagrees! I had the action figures and the web slinging wrist toy-thing, and basically all the comics from the '90s." An MCC Communications major whose long-term goal is to work in the entertainment industry, Kevin was homeschooled. MCC was a safe, local option to test the waters and experience a classroom setting for the very first time.
Kevin's advice to a new MCC student? ""Say hi to people you recognize in the hallway even if you don't know their names. Don't pretend to look at your phone and not notice them! You're going to see the same people over and over again for the next two years, so make friends with EVERYONE!"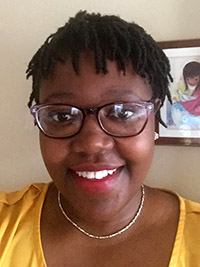 Ngonda
Ngonda Chiboleka, a Human Services major, grew up in Kabwe, a small mining town in central Zambia. The single mother of beloved son John, Ngonda intends to run her own private practice and work as a mental health therapist. "I want to continue educating and promoting the importance of mental health awareness, especially in women who have gone through traumatic experiences and are ready for a fresh start," she said. Juggling the responsibilities of parenthood and full-time classes on a very tight budget has been the most difficult part of her transition to college. "I took a leap of faith knowing that my dreams are way bigger than any obstacles I can ever face."
Ngonda's advice to a new MCC student? "You have the opportunity to live out your calling. Figure out what you were put on this earth to do… Work hard, set high but achievable goals and ask for help even when the situation does not pertain to academics -- still reach out and ask for help."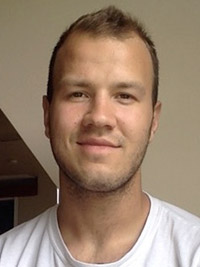 Nick
Nick Bernier, a Liberal Arts and Sciences: General Studies major who attended Victor Senior High, is happy to be back in college. He chose MCC not only because it's one of the top community colleges in the nation – but because of the college's unbeatable price. The toughest part of transitioning from high school to college has been time management, but Nick is getting the hang of it. Aside from classes, homework and the responsibilities of being a peer navigator, he enjoys exercising, being outdoors, engaging in good conversations and broadening his horizons.
Nick's advice to new MCC students: "Do not be in a hurry."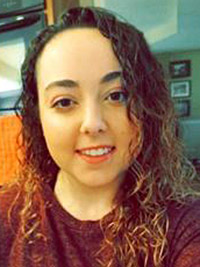 Alexis
According to Alexis Wetzel, the hardest thing about college is finding the perfect balance of job, social life and schoolwork. "It takes time," said the Churchville-Chili graduate who is majoring in Liberal Arts and Sciences: General Studies. "Organization is key." Long gone are the Hot Wheels cars and the Gameboy of her childhood. These days, Alexis enjoys working out and reading when she's not studying American Sign Language and working toward achieving her long-term goal of earning a master's degree. So, what makes for a good college experience? "Having a positive environment, making long-term friends, and being involved in the college community," she said.
Alexis's advice to a new MCC student? "College is no walk in the park, but as long as you focus on your work and have a positive outlook you can achieve your goals!"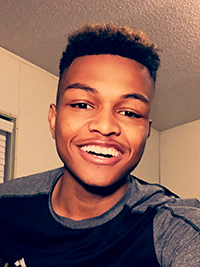 Jalen (Jae)
Jalen (Jae) Short, a Theater Arts major who grew up in Detroit, Michigan, has a plan. After graduating from MCC, he'll transfer, finish his education, and, eventually appear on Broadway or TV. "I have lofty goals for myself," he said. He played a lot of sports when he was younger and still enjoys an occasional basketball game with friends. However, these days Jae's favorite place to spend time is the MCC Theatre. "Probably… because it's a symbol of what's to come and the possibilities that can be created when you step on stage," he said.
Jalen's advice to a new MCC student? "Seize your destiny, work hard, and take pride in how you conduct yourself as a student."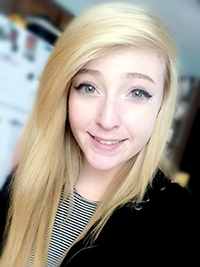 Kim
Introverted. Artistic. Opinionated. Those are the three words that Churchville-Chili grad Kim Dimino, a Visual Communications/Graphic Design major at MCC, chose to describe herself. This future video game developer who enjoys playing soccer, the guitar and, yes, video games, has an irrational fear of butterflies – but is even more scared of failure. Kim decided to attend college here because "it's affordable and close to home."
Kim's advice to a new MCC student? "Work hard, make yourself proud."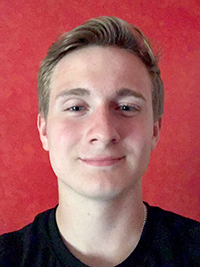 Sean
Criminal Justice major and future NYS Trooper Sean Brown attended Greece Arcadia High School and chose MCC because many of his family members are MCC alumni – and "It's close to home." That's fine with Sean for now. Eventually, he wants to pursue a bachelor's degree, travel the world, and wouldn't mind owning his dream car – a Tesla Model X. When he's not busy with college stuff, Sean enjoys fishing, hunting, and going to the gym. "I think the best thing about me is my willingness to listen and help others," he said.
Sean's advice to a new MCC student? "Start making a schedule for yourself if you haven't already."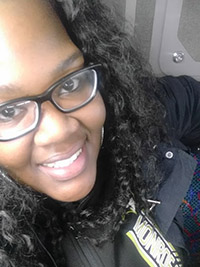 Brittany
Brittany Greene grew up in Rochester and attended Edison Tech. But it was the TV shows – the health channel and the real ER stories that helped determine her future goal of becoming a nurse or, possibly, even a doctor. Her transition from high school to college wasn't easy. Brittany wishes she had gone on the available tours and attended orientation. "I was given a schedule and had no idea where to go," she said. Now she's happy helping other students have a better experience. "… I love to be around people, and I love to help them out.".
Brittany's advice to a new MCC student? "Never be afraid to ask for help."