Download the full 2015-2016 Catalog*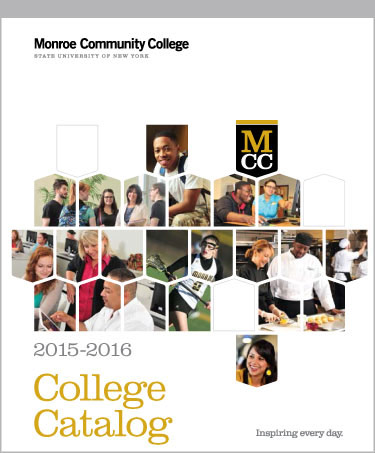 Download individual PDF sections of the Catalog*.
Table of Contents
The College
Academic Calendar
Admissions
Registration
Tuition & Fees
Residency Requirements
Financial Aid Information
2+2 Dual Admissions Programs
Alternative Learning Options: Honors Institute, CLEP, Disney Co-ops, Etc.
MCC General Education Requirements
SUNY General Education Requirements
Placement Testing
Grading System
Attendance-related Policies
Academic Policies
Conduct
Parking
Students' Rights
In order to view and print these documents, you must have the Adobe® Acrobat® Reader installed on your computer. The reader is free and can be downloaded from the Adobe® Web site.
* Monroe Community College may find it necessary to make changes in the curriculum, administration, policies, tuition and fees or any other phase of College activity, and reserves the right to make such changes or to delete any program or course described in this Catalog. Please contact the appropriate department for current information, including programmatic requirements and admissions standards.