The Mission: MCC's mission is to present a paralegal studies program primarily for post-baccalaureate students which complies with the American Bar Association (ABA) Guidelines for Program Approval and which: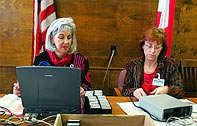 Graduates students with a broad understanding of legal concepts and their practical applications.

Develops analytical thinking paired with the communication and technological skills that will allow our graduates to become ethical, competent paralegals in the workplace.

Encourages our graduates to participate in pro bono activities.