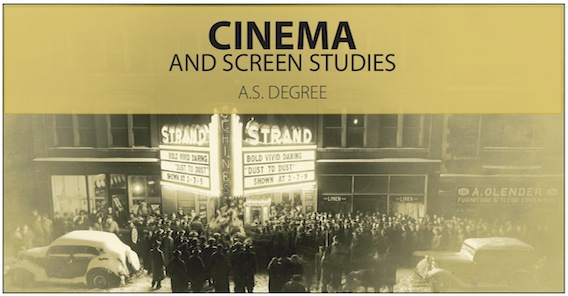 Program Description:
The Cinema and Screen Studies Program offers a strong Liberal Arts perspective on motion picture and television history, culture, theory, and production. Students are introduced to cinema as a medium of mass communication which combines two art forms, photography and theater, to communicate powerful stories with vivid pictures and strong emotion. Students investigate cinema and television through critical studies and create images of their own through scriptwriting and introductory production opportunities. Finally, students gain an appreciation for cinema and television from a commercial standpoint since these media exist not only in the marketplace of ideas but also as end products of an industrial enterprise.
Upon completion of this degree, students are able to continue their studies at baccalaureate film or mass media degree programs where they apply what they have learned at MCC to more advanced studies in this or related fields.
Careers in the field:
Film and Television Production, Television Producer, Script Supervisor, Visual Effects, Cinematographer, Filmmaker, Theater Manager, Story Editor, Camera Operator, Education
Schools to transfer to:
SUNY: Binghamton, University at Buffalo, Oswego, Purchase; Rochester Institute of Technology, Columbia College - Chicago, University of Southern California
Specific skills learned:
Scriptwriting, marketing, oral and written interpretation critical thinking, attention to details, comparison/contrast evidence, video production editing, animation and special effects, digital audio/video
Full-time faculty:
TBA
Coursework enhancement activities available:
Cinema Society, MCC Cinema Society (student club)
Download the Cinema Studies Program Flyer (.pdf)