The Leadership in Energy and Environmental Design (LEED) Green Building Rating System is a third-party certification program and the nationally accepted benchmark for the design, construction and operation of high performance green buildings. LEED provides building owners and operators with the tools they need to have an immediate and measurable impact on their buildings' performance.
Two recent major construction projects at MCC have been purposefully designed according to standards of sustainability. For information on these projects, read the case studies below.
Wolk Center for Excellence in Nursing: Wolk_Project_Brief
Wolk Center Earns LEED Silver Award

PAC Athletic Center: PAC_Case_Study
PAC Center Earns LEED Gold Award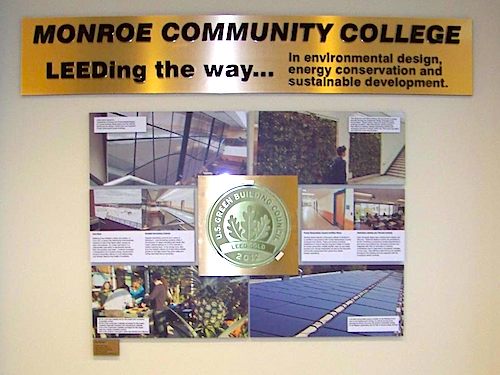 PAC Center - Gold! (press release)
PAC Center - LEED Information / Interpretive Board
'LEED' and related logo is a trademark owned by the U.S. Green Building Council and is used by permission.