Collegiate Science and Technology Entry Program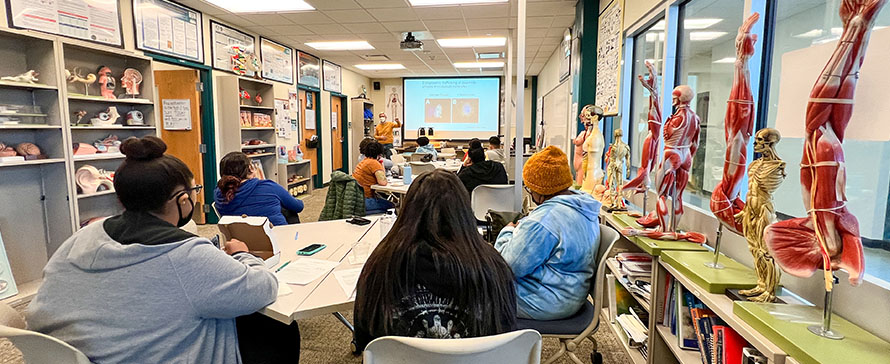 Welcome
The Collegiate Science and Technology Entry Program (CSTEP) is a Legislative Grant that is funded through the New York State Education Department. Its mission is to increase the numbers of students who are historically underrepresented or economically disadvantaged to pursue careers in Science, Technology, Engineering, Mathematics, Health or Licensed (STEMHL) professions. CSTEP is an academic enrichment and professional development program. CSTEP scholars are focused, committed, and successful in their career pursuits.
Started in 1986, the MCC CSTEP is one of the pioneer programs in New York State. In 2008, it was nationally recognized by the United States Department of Education Office of Vocational and Adult Education as one of the nation's top eight programs. In the state of NY, the MCC CSTEP has received awards and accolades for its excellent programming and student outcomes.
From a pre-freshmen summer bridge program, to conducting scientific research, to participating in internships, to presenting at conferences, CSTEP scholars have opportunities that further develop their skills, increase their knowledge, and broaden their network. Their outcomes are outstanding!
CSTEP's holistic approach and intrusive advisement is well received and welcomed by students. It creates an environment that is cohesive and nurturing. We say that "We are the CSTEP family, and family takes care of family."
Currently, the CSTEP staff is working remotely. They remain committed to the success of students.
With over 25 years at the College and CSTEP, I have witness the resiliency of the CSTEP students as they overcome obstacles, achieve milestones, reach goals, enter their careers, and start new journeys. CSTEP Really Works!
Think you can be a CSTEP Scholar? Click on the apply button to submit your application.
Onward,
Joann Santos, CSTEP Director
Contact Information
Brighton Campus
Building 9, Room 143 (NSEC)
M - F 8:45am - 4:45pm
(585) 292-2596
bgraham2@monroecc.edu