News & Events
Mapping Club
Please consider learning more about MCC's Mapping Club by attending an open meeting. The mapping club's focus is on humanitarian mapping (YouthMappers), provide a venue to share about GIST, and listen to guest speakers. For more information, contact Jon Little.
Mt. Hope Tours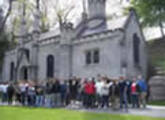 Michael Boester is an Associate Professor of Geography in the Department of Chemistry and Geosciences at Monroe Community College. Professor Boester has studied cemeteries for his entire career and has focused much of his research on Mount Hope Cemetery in Rochester, NY. As a member of the Friends of Mount Hope Cemetery, he gives several tours throughout the year and he often leads private tours for educational groups. His knowledge and storytelling make this a tour that should not be missed. For tour information, please contact Professor Boester.
DIGITAL MAP GALLERY
A permanent gallery of 16 world maps showcasing aspects of human geography and physical geography was installed fall of 2016 throughout the Brighton Campus and shown as a temporary poster display at the Damon City Campus. As in an art gallery or museum, the maps have a display explaining the map as well as a QR Code that students can scan with their smart phone, tablet, or laptop to interact. A map for the maps was created by Professor Pierce's GEG 131 students.
GRANTS
In the summer of 2015, we received a NSF ATE grant for $200,000 to provide professional development for high school teachers and to create a Geospatial Certificate program and career pipeline. In 2019, we received a SUNY Innovative Instructional Technology Grant. For more information:
Student Internship Video GeoTech Consortium of Western New York
Geography Links

MCC GEOGRAPHY/GIS ALUMNI WINS PRESTIGIOUS UNDERGRADUATE GEOSPATIAL AWARD!
A former MCC Geography/GIS student recently won the "Marble-Boyle award", supported by Mr. Jack Dangermond of ESRI.