About Criminal Justice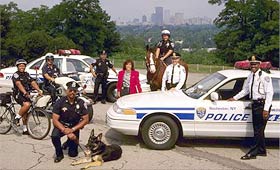 The objective of the Criminal Justice faculty is to prepare interested students to become the next generation of law and public safety professionals. Majors begin to develop the knowledge, skills, and demeanor of professional practitioners through a curriculum emphasizing the science of public safety, the law, ethical imperatives, and a strong liberal arts core. Tailored degree options are offered for law, law enforcement, and corrections careers. Likewise, these degree options are excellent preparation for those aiming for careers in private security.
The Criminal Justice Department offers a variety of degree options and courses to make it possible for students to successfully achieve their educational and career goals.

Programs
Courses
Each degree option is specifically tailored to provide the student with the appropriate courses required to pursue his or her chosen career. It is therefore important for students to choose the program of study which is appropriate for their career goals. It is not unusual for a student's career goals to change and, therefore, it is possible to change degree programs. However, each specific degree option has different course requirements, and changes may affect the total number of courses a student may have to take to complete his/her new program.