Curriculum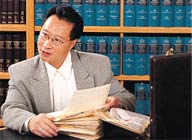 MCC's paralegal curriculum consists of 17 required courses (33 credit hours). These courses emphasize ethics and professional responsibility, New York law, procedural law, legal research, law office computing, team work, and mature critical thinking and writing skills.
The leadership of the Monroe County Bar Association and the Paralegal Association of Rochester worked with MCC to determine what a paralegal is expected to know and be able to do upon job entry in over 30 specialized practice areas. Learning activities which develop the expected paralegal competencies are incorporated in the curriculum. Instruction is provided by experienced lawyers and senior paralegals. The MCC Paralegal Studies Advisory Board (described later in this brochure) approved MCC's curriculum.
To complete the program in a reasonable time period, courses are offered in four consecutive semesters. Students must register for each course in every semester. Courses must be taken in the sequence indicated. An internship is required for all students. The internship hours may be completed by working out mutually convenient hours with the cooperating legal entity sponsor.