Nursing Learning Center
Description & Resources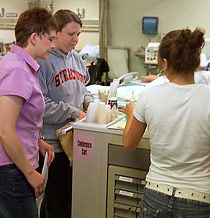 The Nursing Learning Center (NLC) complex consists of clinical nursing skills/simulation laboratories, audiovisual/auto-tutorial areas, and a nursing computer and media center. All are used for scheduled nursing classes, conferences, and laboratories. A wide range of nursing equipment and simulators are available for teaching and practicing clinical skills. In addition, the NLC houses a broad collection of nursing software titles in a variety of formats such as videotape, computer software, CD-ROM, and DVD.
The Nursing Program faculty members teach nursing classes in the NLC using a variety of teaching/learning strategies in an effort to accommodate the diverse learning styles of our students and to foster their critical thinking skills. The innovative and caring faculty provide student guidance, supervision, remediation, and enrichment to assist nursing students to meet their educational goals.
WHO CAN USE THE NLC
Only nursing and surgical technology students who are matriculated in MCC nursing and surgical technology programs may use the NLC.
History & Mission Statement
The NLC concept was born shortly after the nursing program began at Monroe Community College in the 1960s. It was established as an integral part of the nursing curriculum and was originally called the Nursing Laboratory. The NLC's current site is within the newly built Louis S. and Molly B. Wolk Center for Excellence in Nursing. The NLC has evolved through the years to become a well-equipped, interactive teaching/learning facility, which includes cutting edge patient simulation technology. It has proven its worth by becoming an essential component of the nursing curriculum. Hence, its mission, philosophy, goals, and objectives are synonymous with that of the Department of Nursing and the terminal objectives of the nursing program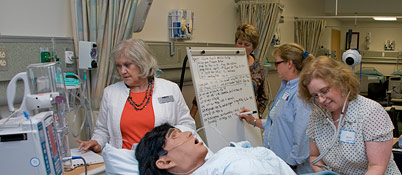 Open Lab Hours
Monday 8:00am – 4:00pm
Tuesday 8:00am – 6:00pm
Wednesday 8:00am – 6:00pm
Thursday 8:00am – 6:00pm
Friday 8:00am – 4:00pm
Saturday 9:00am – 2:30pm
Sunday Closed
*Call for open hours during college breaks.
During open lab hours, nursing students can use the NLC for review, remediation, or enrichment activities. Open lab hours vary depending on the scheduled nursing classes each semester. Room schedules are posted on each door of the NLC indicating the schedule of classes and open lab times. Whenever the NLC rooms are not in use for scheduled nursing classes, MCC nursing students can come to the NLC and use the variety of materials it has to offer. Nursing students may contact the Coordinator of the NLC for further information.