Program Effectiveness
Highlights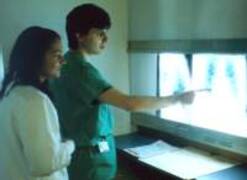 Our Radiologic Technology Program currently is the only accredited program in Rochester and its nine county surrounding area.
We received the maximum 8-year accreditation status awarded by JRCERT through 2030.
Faculty members have served as President, board member or committee chairs of local, state and national professional associations.
Radiologic Technology students are frequently recognized by MCC for academic excellence.
Effectiveness Data
The following is the most current program effectiveness data through our programmatic accreditation agency, the Joint Review Committee on Education in Radiologic Technology (JRCERT).
Credentialing Examination Rate

The Credentialing Examination Rate is calculated by the number of students who passed the American Registry of Radiologic Technologists (ARRT) certification examination, or an unrestricted state licensing examination, on their first attempt, divided by number who attempted within six months of graduation.

| Year | Results |
| --- | --- |
| Year 1: 2017 | 88% (21 of 24) |
| Year 2: 2018 | 100% (31 of 31) |
| Year 3: 2019 | 100% (27 of 27) |
| Year 4: 2020 | 96% (23 of 24) |
| Year 5: 2021 | 96% (26 of 27) |
| 5-Year Average | 96.2% (128 of 133) |
Job Placement Rate

The Job Placement Rate is calculated by the number of graduates employed in the radiologic sciences divided by the number of graduates actively seeking employment within 12 months of graduation.

| Year | Results |
| --- | --- |
| Year 1: 2017 | 100% (23 of 23) |
| Year 2: 2018 | 100% (28 of 28) |
| Year 3: 2019 | 96% (22 of 23) |
| Year 4: 2020 | 95% (18 of 19) |
| Year 5: 2021 | 96% (26 of 27) |
| 5-Year Average | 97.5% (117 of 120) |
Program Completion Rate

The Program Completion Rate is calculated by the number of students who graduated divided by the number of students who started the program.

| Year | Results |
| --- | --- |
| Year 1: 2017 | 78% (25 of 32) |
| Year 2: 2018 | 94% (29 of 31) |
| Year 3: 2019 | 90% (27 of 30) |
| Year 4: 2020 | 96.42% (27 of 28) |
| Year 5: 2021 | 100% (27 of 27) |
| 5-Year Average | 91% (135 of 148) |