Frequently Asked Questions
What is the Holocaust, Genocide, and Human Rights Project?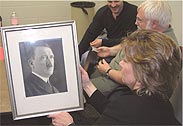 The Project offers unique experiences to students and community members who are interested in exploring the Holocaust, genocide and human rights issues. Members openly discuss the nature of good and evil, together with such issues as indifference, survival, identity, faith, tolerance, forgiveness and compassion—and apply lessons learned to our contemporary world. The Project hosts bi-monthly activities throughout the academic year that are open to the Monroe Community College community.
When was it established?
Blossoming from an honors seminar in 1991, the Holocaust, Genocide, and Human Rights Project has emerged as a template for Holocaust genocide studies in colleges nationwide. It responds to MCC students' desire to more fully answer the questions why and how the Holocaust occurred and how we can learn from its many lessons.
Who may participate?
Anyone with an interest in exploring the Holocaust as a "touchstone" event in human history is welcome to attend Project meetings. Meetings are held on Tuesdays at 3:30 pm in Building 9, Room 231, at 1000 East Henrietta Road, Rochester. Please contact the Office of Student Life and Leadership Development for more information.
What types of activities are offered?
Featuring debates and discussions, films and guest speakers, Holocaust, Genocide, and Human Rights Project meetings are rich with opportunities for learning, discussion and reflection. The Project also offers annual trips, essay contests and community commemoration ceremonies—often hosted in cooperation with our expanding list of community partners. Often, Holocaust survivors and liberators attend Project events and share their individual stories and memories of the Holocaust.
Tell me about the Project's leadership?
The Holocaust, Genocide, and Human Rights Project is led by an advisory board comprising community leaders and representatives of Monroe Community College and the MCC Foundation. Student volunteers also serve as officers of the student organization.
Is there a cost to join?
There is no cost to become a member of the Holocaust, Genocide, and Human Rights Project. The majority of activities is free and open to the public.