Member Reflections
Following are quotes from Holocaust, Genocide, and Human Rights Project members and event participants: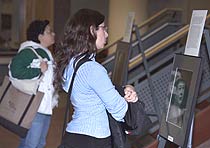 "I sometimes wonder if the ability to forgive is a gift that some people have and others don't. I am not sure if forgiveness can be taught. I do believe that it takes a willingness to move on, along with a real desire to be free of the hate, hurt and resentment that goes along with clinging to an injury. We are free to make decisions about whom to forgive and for what reason. Oftentimes this isn't easy, but it is always a choice." – Charles Theis
"From the first day we were challenged to look within ourselves and see that, as human beings, we were capable of great things, both good and evil. The Nazis themselves were humanized. While their actions were certainly not justified, our challenge was to realize that they were not monsters, but simply humans like the rest of us." – Jessica Timothy

"I joined the Water for Sudan fund raiser as a very practical way of creating peace in a disturbed area of the world. We aren't going in to a foreign country and telling people what to do and how to run their lives. We are simply giving people what they need on a basic level to ease their tensions and live a healthy life. It's the first step in a long and gratifying process in which I am proud to participate." – Richard Skanron
"My time spent on the Project and learning in class, are among my favorite parts of my entire MCC experience. I highly recommend for anyone who feels like they want to do something about the killing that still goes on today, to join the Project and get involved." – Jake Cook
"Genocide doesn't happen because people are inherently evil. An individual's situation can give them the ability to do evil things. I also hope that with the information and the technology we have today, our society would be able to see the warning signs that a catastrophic event is imminent and possibly, in some way, intervene." –Jeff Mitchell
"Having [Election Day and Kristallnacht] fall within two days of each other is a poignant reminder of how important your vote is in the effort to protect human rights in the United States and abroad. … As informed citizens and witnesses to recent genocides in Rwanda and Sudan, we need to reflect on the lessons of the Holocaust as we prepare to vote." – Jodi Oriel and Charles Theis, an excerpt from "Voting is the way to protect human rights," that appeared in the Nov. 7, 2006 Democrat and Chronicle.
"I cannot fathom what the Holocaust could have possibly been like for those whose lives it abused. However, with teachers like Dr. Barbara Lovenheim, Angelique Stevens and Charlie Clarke, and all who support and run the HGSP… I have felt the presence of the Holocaust and its intense disregard for humanity in my drawings and paintings, and have used it to represent what I cannot articulate in words. Art is my way of passing on the education I am receiving so that this will not happen again. My heart goes out to all who survived Hitler; and I give my art and my education to those who face holocaust now." – Geoffrey Chard
"After being a part of HGSP this semester, I wish I was coming back next year (I'm graduating this May). I learned much about myself through this experience. It has encouraged me to further step out of my comfort zone and attempt to make a real, noticeable difference in our world." – Rebecca Romero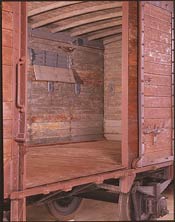 "The most powerful exhibit and artifact in the entire USHMM, is a railway car that was taken from the tracks of Treblinka. You have to walk through this car that was used to transport prisoners to the largest concentration camp. It's impossible to imagine how so many people could be crammed into such a small place with virtually no ventilation. It is absolutely heart wrenching." – Ashley R. Pimpinella
"As a student in my teens, I don't remember being told much about the Holocaust, except that the Nazis killed six million Jews. That, in and of itself, was about the most horrible thing my young mind could imagine. I had no way of knowing that years later, not only would many terrible truths of the Holocaust be revealed to me, but that I would also find incredible beauty in human nature in spite of them. Because of these revelations, my life's direction has changed." – Donna Johnson '04
"My dad has always been a history buff, so I decided this was an opportunity to explore history together. That's when we decided to check out a meeting of the Holocaust Genocide Studies Project." – Thomas Bittlingmaier
"By being open to exploring and learning about the Holocaust, I feel as though I am, in a small way, showing respect and gratitude to the people who went through it." – Alex Phegley
"MCC students and members of the community were honored to have such accomplished people visit campus [through the Project]. The events and stories that they shared captured the audience's attention and left them with images that they will not soon forget." – Elisabeth Buschang
"Human rights issues play an important role in people's everyday lives. How they are handled and dealt with may never fully be resolved. However, people still have the right to voice their opinions. Violence against women should never be committed." – Erin Uetz
"Taking a class on the Holocaust and taking part in the Holocaust Genocide Studies Project allows discussion of many topics related to the Holocaust. However, no discussion or literature is as intense as listening to a survivor of the tragedy….It is important to listen to the people who have stories about that particular time because we have to make sure it does not happen again." – Paul Wilson
"To observe the failings of our past as isolated aberrations is to forget the lessons of history. We can not confine our understanding of the Holocaust to a period of time; the atrocities must be understood as the product of an evolving state of mind and society." – Katherine Marsh

"Today, almost a decade [since the Project's inception], I am even more convinced of the Project's importance at MCC. Students who study the Holocaust and human rights and take the time to participate in Project programs gain valuable insight that will drive decisions and reactions throughout their lives." – Howard Konar, president, Konar Properties, chair of the Holocaust Genocide and Human Rights Project Advisory Board and director, MCC Foundation Board

"As I walked down the center road of Birkenau to Crematorium II, I pondered how this massive artifact of a utopian legacy that had been nurtured by ignorance, greed, fear, xenophobic prejudices, and rabid ethnocentrism. ... A journey of hope does not always come from celebration, but it is always rooted in mindfully and compassionately acknowledging the unity of all being." – Charles Clarke, professor of psychology and director of the Holocaust Genocide and Human Rights Project
Read a Democrat & Chronicle essay by Jodi Oriel and Charles Theis on Kristallnacht