Kristallnacht Program
Wednesday, November 8 at 7 p.m.
Holocaust Denial: from the Classroom to the Courtroom featuring Historian and Author Deborah E. Lipstadt, Ph.D.
Dr. Lipstadt is the Dorot Professor of Modern jewish History and Holocaust Studies at Emory University. Her true story of preserving Holocuast history in the courtroom inspired the film Denial. This presentation in sponsored in partnership with MCC Global Education and International Services, Jewish Federation of Greater Rochester and the Louis S. Wolk Jewish Community Center of Greater Rochester.
Free and open to the public.
Tickets are free and available online.
Warshof Conference Center, Flynn Campus Center (Monroe A & B)
MCC's Brighton Campus, 1000 East Henrietta Road, Rochester
Parking available in Lot M
"Kristallnact or Night of Broken Glass"*
In November 1938, mass frenzy broke out in Austria and Germany. Synagogues were destroyed and burned, Jewish homes were assaulted, and Jewish-owned stores were shattered and looted. In many places, Jews were physically attacked. About 30,000 Jews—especially the influential and wealthy—were arrested and were thrown into concentration camps.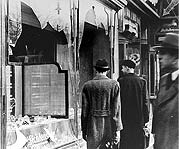 This was the first time that riots against the Jews of Germany, accompanied by mass detention, had been organized on such an extensive scale. Though the violent onslaught was officially terminated on November 10, in many places it continued for several days. In Austria, it started only on the morning of November 10 but was particularly fierce.
Every November, people around the world pause to remember Kristallnacht. The name Kristallnacht comes from Kristallglas (beveled plate glass) and refers to the broken shop windows of Jewish stores. Kristallnacht was the Nazis' first experience of large-scale, anti-Jewish violence. It opened the way for the complete eradication of the Jews' position in Germany.
Source: Yad Vashem