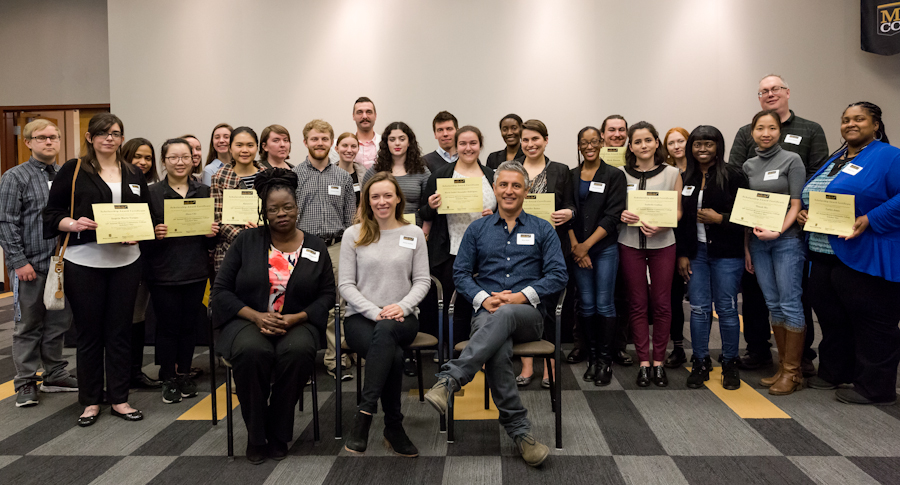 2018 scholarship winners (with Leslie Youngblood, Jessica Jackley, and Reza Aslan)
The 2018 Scholars' Day scholarship winners:
Competitive scholarships, made possible by donors to the MCC Foundation, are available to participating students. We distributed $25,000 in scholarship awards in 2018 and hope to match or exceed that for 2019. Scholarships are not limited to continued enrollment at MCC. However, only currently enrolled students at MCC are eligible to receive a scholarship (students who are enrolled in the fall 2018 semester but not spring 2019 will still be eligible for 2019).
In addition to the judged distribution of scholarship awards, we had two $250 awards for the most popular student presentations (as voted by attendees).
Student presentations eligible for scholarship awards have been previously judged on the following criteria:
The presentation's originality and creativity. Presentations that contribute original research or make some other original contribution will be preferred over those that do not contain original work or interpretation.
The depth of understanding the topic shown in the presentation. Well-researched presentations combined with thorough understanding of the topic, including as shown in response to audience questions, will earn the highest marks.
The degree of responsibility taken by the student for the project. Students who develop the presentation independently, or who are more instrumental in developing a collaborative project, will have advantages over those who are only presenting faculty-developed material.
The effectiveness of the presentation. Professionalism, clarity, and overall quality of delivery will be assessed. (For information about effective presentations, see the MCC Library Guide on presentations.)
Individuals within a group or team will not be judged for personal contributions; each group award will be divided equally among group members.
Poster presentations should be well-organized, carefully-designed (for visual appeal), comprehensive, and clearly written; the poster's authors are expected to respond intelligently to viewers. (For information about creating effective posters see the MCC library guide on posters and this external link.
Note: Submission of an annotated bibliography, due two weeks prior to Scholars' Day, is required for scholarship eligibility and judging. Pay attention to your MCC email for details.
Scholarship awards are usually competitive within a category (listed on the Scholars' Day Application), into which presenters self-select. The Scholars' Day Committee reserves the right to combine categories if there are too few entries for a meaningful awards process.
The following scoring rubrics represent what we consider important for scholarship judging:
A variety of faculty, staff, and administrators have volunteered to serve as judges for determination of scholarships, and though we can't list them here (to protect their anonymity), we are extremely grateful for their participation