Emergency Medical Services Training
The Emergency Services Training unit of the Public Safety Training Facility is a group of the following programs. Generally, these courses are open to everyone with an interest in them.
Emergency Medical Services
The Training Center is authorized by written agreement with the New York State Department of Health's Bureau of EMS to offer Certified First Responder, Emergency Medical Technician (basic and advanced levels), Paramedic, and several continuing education courses.
Fire Protection Technology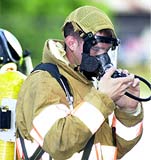 An Associate in Applied Science degree program designed to explore the diverse fields of fire protection. Topics include hazardous materials emergency response, fire investigation, fire detection and suppression systems, building codes and construction, and organized emergency response systems.
Hazardous Materials Emergency Response
The hazmat program deals with all aspects of responding to hazardous materials incidents. Program participants are drawn from fire, EMS, law enforcement, industry, and transportation.
Public Safety Leadership and Management Program
The leadership and management program's goal is to give current and future officers and managers in public safety the skills and knowledge necessary to be effective leaders.
TEAM (Training for Emergency Action Management)
The focus of TEAM is emergency management at all levels of emergency response. Fire, EMS, law enforcement, and industrial responders explore the techniques of effective control and management of public safety incidents.
Aircraft Rescue and Firefighting (ARFF)
The ARFF training programs are designed to meet the FAA requirements under FAR, Part 139 Standard. Two different fire fighting classes are conducted to meet these training requirements. In addition, Basic ARFF classes and ARFF driver training programs are scheduled at various times of the year to accommodate the needs of the aviation industry.