Fire Protection Technology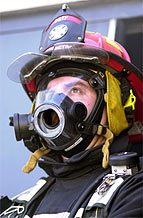 The Fire Protection Technology program offers an Associate in Applied Science degree. The program of study can be completed in two years. The Fire Protection Technology (FPT) courses are offered only during the evenings at the Brighton campus; however, the general education courses are available during both the day and evening.
The Fire Protection Technology Faculty are all experienced and practicing professionals in their respective fields. The FPT faculty is frequently praised by the students for their subject knowledge and teaching abilities. They combine their experience with current practices and knowledge to enhance the learning in their courses.
Scholarship Information
Tony Lambiase, Jr. Memorial Firefighter's Scholarship
O'Hanlon Family First Responders Endowment Scholarship
The FPT courses are offered on a yearly cycle.
Fall courses
FPT 101 Introduction to Fire Protection Technology
FPT 102 Fire Prevention and Inspection
FPT 211 Fire Investigation: Cause and Origin
PST 145 Hazardous Materials and Emergency Response
Spring courses
FPT 103 Building Materials and Construction
FPT 104 Fire Suppression Technology
FPT 213 Automatic Sprinkler and Standpipe Systems
HSE 101 Introduction to Occupational Safety and Health
PST 146 Hazardous Materials: Characteristics and Behaviors
Electives
FPT 107 Introduction to the NYS Building Code
FPT 217 Fire Service Management and Leadership.
Electives are offered once a year or every other year.
For more information, contact:
Marc Connolly, Manager
Emergency Services Programs
585-753-3714 or mconnolly@monroecc.edu