Inclusion, Diversity, Equity and Accountability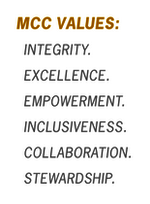 Like many colleges and universities, Monroe Community College (MCC) sets forth in its vision and mission our commitment to inclusion, diversity, and equity. We frequently celebrate the differences among us that enrich our community and recognize that, more often than not, our commonalities outnumber our differences. As educators and individuals committed to scholarly pursuit, we value the opportunity to learn from others, including those whose experiences, cultures, and beliefs differ from our own. This is what it means to be part of the MCC community.
We are also a work in progress, as a college community and as individuals. Today's 24-hour news and information cycle can bring to our doorsteps ideas, opinions, and values that run counter to our own. As we work through differences, we hold true to some guiding principles, including respect, integrity and a responsibility to stand for our values. Communities, including ours, do not always follow easy or linear paths, but strong communities move forward together, navigating the smooth and bumpy roads as one.
These web pages were created to share MCC's commitment to inclusion, diversity, equity and accountability to show how we live that commitment—the successes and failures—and to encourage others to join us in the journey. I invite you to be an active, positive participant in the MCC community. Join us in exploring our sameness and our differences, in growing our understanding of each other.
We are MCC. And together, we are creating a welcoming and nurturing environment for all who chose to visit, attend or work here.