Advisement Centers
Downtown Campus Advisement Center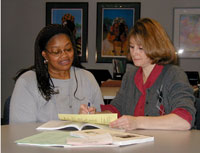 The Downtown Campus Advisement Center is committed to a developmental approach in providing a variety of services in support of the college's mission of student success.
By providing individualized attention, we can help students to explore career interests, values and goals to ensure meaningful course selection and program planning.
The Center is staffed by professional advisors, counselors, faculty and peer leaders.