About the Program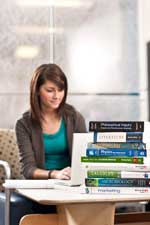 The College Now Program is a cooperative program between Monroe Community College and area school districts and BOCES that provides the opportunity for high school students to enroll in MCC courses offered at their high school. Student in these courses earn credit toward high school graduation as well as receive official college credit.
This is an exceptional opportunity to experience college coursework and earn college credits while completing the requirements for a high school diploma. College Now courses are taught by high school teachers that have been certified by MCC to teach the course. The high school teacher works directly with an MCC professor in developing the curriculum for the course. These courses will have the same requirements as those offered on-campus at MCC and receive the same college credit. Upon completion of the course, College Now students will receive a grade report from MCC which reflects the course, credits, and grade on the student's official MCC transcript. The student can request an official MCC transcript at any time, at no cost.
Accreditation

The MCC College Now program is accredited through the National Alliance of Concurrent Enrollment Partnerships (NACEP). NACEP works to ensure that college courses taught by high school teachers are as rigorous as courses offered on the sponsoring college campus. As the sole accrediting body for concurrent enrollment partnerships, NACEP helps these programs adhere to the highest standards so students experience a seamless transition to college and teachers benefit from meaningful, ongoing professional development.
Vision
Guiding high school students toward college and career success.
Purpose
The College Now program values academic excellence, collaboration, and information sharing. Our purpose is to promote partnerships with schools and districts to share curricula and high-impact practices, introduce students to college culture, and help prepare high school students for post-secondary opportunities at MCC.