Construction Technology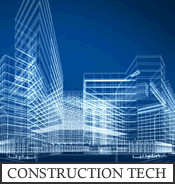 Graduates from the Construction Technology program are instructed to be part of the project team. This program is aimed at providing an education in the technical and operational aspects of the construction industry. As part of the project team, graduates may be responsible for the planning, implementation, inspection, and documentation of a construction project. Some of the duties that graduates encounter in their employment include cost estimating; construction surveying; drafting changes, submittals, and as-built drawings; construction quality control and quality assurance inspections; project critical path scheduling; project coordination between vendors, subcontractors, and prime contractors; construction contract administration; project planning; and project work breakdown analysis.
Construction Technology Program Information
Construction Technology graduates work for private contractors (both general and specialty contractors), facility management departments, construction material vendors, insurance agencies, and engineering/surveying firms, as well as public agencies such as the local, regional, and state departments of transportation, public works, and code enforcement.
Students are able to draw on classes in methods and materials of construction for both buildings and heavy/highway construction, construction surveying, CAD graphics, concrete, soils, statics, and strength of materials, as well as construction management courses in project management, estimating, and contracts to gain an entry into the construction industry. Students who graduate with an A.A.S. in Construction Technology have also transferred to area colleges for baccalaureate programs in Civil Engineering Technology at RIT and SUNY Utica and construction management programs at SUNY Alfred and ES&F at Syracuse University.
For more information about the Construction Technology program, please email Pasquale Dilucia (pdilucia@monroecc.edu), call him at (585) 292-2684, or call the Engineering Technologies Department at (585) 292-2002.