Mechanical Technology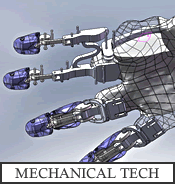 Nearly every product includes mechanical components that must be created by a mechanical designer. The Mechanical Technology program at Monroe Community College prepares students for challenging careers in mechanical design. The mechanical designer of today requires knowledge in many areas including mechanical drafting, computer-aided drafting and design, machine shop, robotics and machine components. Our Mechanical Technology program provides a thorough understanding of these concepts as they apply to today's high technology. In particular, our drafting and design courses emphasize the national standards for drafting and geometric dimensioning and tolerancing.
Program Description
The Mechanical Technology program introduces the student to the principles, materials and equipment of mechanical technology. Emphasis is placed on computer-aided drafting/design (CAD) and an understanding of basic machine components. Graduates of the program should find employment as CAD operators, engineering assistants. technicians and technical representatives.
PROGRAM OBJECTIVES
The mechanical technician must have a thorough knowledge of existing designs. Our foundation courses will provide knowledge of traditional mechanics, physics, mathematics, machine shop practices and machine theory. Subsequent courses build upon this basic knowledge to develop applications related to modern machine design.
CAREER OPPORTUNITIES
The majority of graduates from the Mechanical Technology program find jobs with local industry as drafters and designers. Computer-Aided Drafting/Design (CAD) is used extensively throughout the program. The majority work at computer graphics terminals rather than drafting boards. Other positions include those in the areas of technical sales, manufacturing and research.
ADMISSION REQUIREMENTS
Students entering the Mechanical Technology program are required to be MTH 150 ready or higher.
Recommended preparation could also include an introductory drafting course in high school, mechanical drawing, physics, at least one-half year of machine shop, or equivalent work experience.
TRANSFER OPPORTUNITIES
Although the Mechanical Technology program was designed primarily to prepare students for employment, approximately 10-20% of our graduates transfer to a Bachelor of Engineering Technology program at one of approximately one hundred colleges across the nation. Transfer students can choose to continue their study in mechanical design or specialize in such areas as industrial or manufacturing technology.
If you would like any further information on the Mechanical Technology program you may contact Jim Weinschreider, (585) 292-2682, or call the Engineering Technologies Dept. at (585) 292-2002.