Industrial Automation Technology/ Mechatronics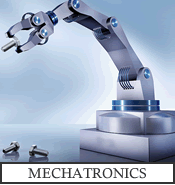 As Engineers design new products and procedures, Technicians are required to translate those concepts into realistic consumer products. The Industrial Automation Technology program at Monroe Community College prepares students for challenging careers in various phases of the implementation process. The Industrial Automation Technician will learn to integrate the various technologies into a project.
Program Description
The Industrial Automation Technology degree offers a unique, interdisciplinary program which prepares students for positions in high technology fields applying the principles of science, engineering, and mathematics to solve technical problems. The comprehensive curriculum addresses the impact of technology on engineering and manufacturing processes and carefully integrates machining, optics, electrical, mechanical, and manufacturing technologies. Students are provided with extensive hands-on laboratory experience and work on team projects which simulate industry scenarios.
PROGRAM OBJECTIVES
The Industrial Automation Technician must have a thorough knowledge of existing technologies. Our integrated courses will provide knowledge in product design using SolidWorks, machining components with Mastercam, and manufacturing products using Lean Manufacturing. The capstone project will require students to work on cross-functional teams, combining the use of mechanical, electrical, machining, and optics, to design and build the solution to an open-ended technical problem. The required internship will provide students with workplace experiences. These experiences will show students how their skills and knowledge are applied in actual situations.
CAREER OPPORTUNITIES
Upon completion of the program students can begin careers as technicians in product design, system troubleshooting, manufacturing process development, evaluation of components and systems, and translating engineering designs into end-products.
ADMISSION REQUIREMENTS
High school Algebra is required (Regents level strongly recommended), and one-half year of physics or physical science is recommended.
TRANSFER OPPORTUNITIES
The Industrial Automation Technology program was designed to prepare students for employment. Transfer into a four year technical program will require additional bridge courses in higher level math and science. Students who want to enter into management positions will be able to transfer credits into a Technology Management program.
For more information contact us at (585) 292-2002.