DWIGHT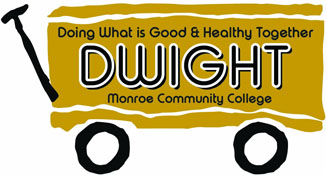 We would like to inform you of a service to all MCC students, faculty, and staff who may be facing food insecurities.
The US Department of Agriculture (USDA) defines food insecurity as a state in which "consistent access to adequate food is limited by a lack of money and other resources at times during the year."
How can we help?
Doing What Is Good and Healthy Together, is a campus food pantry initiative created to support students in need of food and additional resources to help those that are having difficulties making ends meet. We value our students and want to help our College Community!
Who is eligible?
The food pantries can be accessed by any MCC student, faculty, or staff member.
MCC ID must be presented
Limited to one visit per month (if you have additional needs, see the Student Life office)
No appointments are necessary; however, if the pantry is not staffed please stop into the Office of Student Life & Leadership Development (Room 3-126) at the Brighton Campus and a staff member can walk you over.
Locations and Hours of Operation
DWIGHT @ the Brighton Campus
Building 3, Room 125 (COVE)
Open Monday thru Friday
9am to 4:30pm*

DWIGHT @ the Downtown Campus
Room 216, Please stop in to Suite 310 to request access.
Open Monday thru Friday
10am to 3pm

DWIGHT @ the Residence Hall
West Canal Housing Office
Call: (585) 292-3674 for access
*The DWIGHT food pantry is closed all college holidays and may be closed without notice, as staffing requires.
Questions?
If you have questions about DWIGHT, please call: (585) 292-2534 or email Student Life and Leadership Development.
How is DWIGHT supported?
Grant funding for this initiative has been provided through the generosity of Foodlink, in addition to on-going fundraising and food-donations contributed by faculty, students, and staff at Monroe Community College.
How can YOU help?
Help fill the pantry! We will gladly accept and appreciate all non-perishable food items.** You can drop off all items at the Office of Student Life & Leadership Development (Room 3-126) at the Brighton Campus. Throughout the year we may host food drives, so be on the lookout for our Food Drive drop boxes around campus.
**No expired, dented, open or broken containers please.