Community Outreach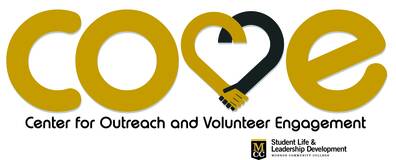 MCC's Center for Outreach & Volunteer Experience (COVE) serves as the first point of contact for students looking to become more involved in community outreach, civic engagement, and volunteer programming at Monroe Community College. The Center coordinates & facilitates service opportunities worldwide and, in addition, acts as a hub for students wanting to track their own service hours and build a Service Transcript while enrolled at the College.
Email the Office of Student Life and Leadership Development or stop in to Building 3, Room 126 for more information.
Volunteering is Still a Good Idea
Volunteering is about coming together and participating in an act of service for no financial or social gain. During times of uncertainty and crisis, we have to make sure we continue to come together to support one another, even if it is virtually.
See the ways you can help below:
Want to volunteer without leaving your home? All for Good offers "Volunteer at Home" options. Get started by exploring All For Good's database of volunteer opportunities.
Foodlink needs your help with local food distribution. Pack emergency food with Foodlink at the Riverside Convention Center. You can bet local volunteers are practicing social distancing while doing so. Sign up to volunteer through United Way
Rochester Mutual Aid Network NEEDS YOU! In these times of crisis, people shouldn't have to worry about where help is going to come from. Rochester Mutual Aid Network is looking for people to deliver supplies to their neighbors, purchase the things they supply, and help run their website.