Testing Services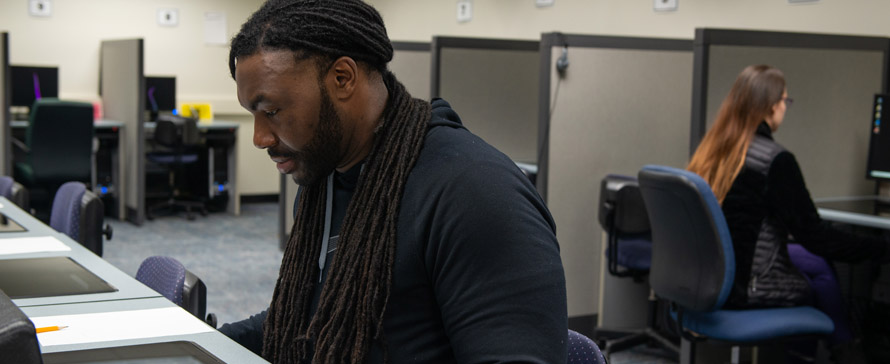 We're Ready to Help You
Even though in-person testing is limited, we're ready to help you, and answer all questions about our placement process, so you can enroll.. Please email us at testing@monroecc.edu. - Sarah Pantaleo, Associate Director

Due to the COVID-19 crisis, most students will receive placements based on their academic record. This includes high school transcripts, college transcripts, and/or TASC/GED scores. You may see your placement in Degree Works. If you have questions about your placement, please email your advisor.
Placement Testing
In order for you to be placed into classes for Spring 2021, you must submit transcripts to admissions@monroecc.edu. Since many students will not require testing, testing will only be offered with permission from the appropropriate department. If you have received departmental permission to test please fill out the Off Campus Testing Form.
For more information about Math testing and placement, see the new Math Placement FAQ.
Accommodated Testing
Monroe Community College offers testing accommodations for students who self-identify as having a disability and are approved through the Office of Disability Services at Monroe Community College.
Ability-to-Benefit (ATB) Testing
ATB testing has recently been approved for remote proctoring in New York State. Please reach out to testing@monroecc.edu for more information.
English for Speakers of Other Languages: Testing
Have an active ESOL test requirement? Fill out an Off Campus Testing request. If you are unsure if you need an ESOL test, find instructions for accessing your placements through Banner Self-Service.
Tests We Can Administer Remotely
Accuplacer
ESOL
ATI TEAS - Register at atitesting.com
ATB (Ability to Benefit)
Tests we cannot administer remotely
CLEP
PSI
Scantron
Tests for Other Institutions
Prov
Kryterion
Location & Contacts
Brighton Campus
Building 6, Room 207
(585) 292-2290 (option 3)
Fax: (585) 292-3857
testing@monroecc.edu
Downtown Campus
Room 274A
(585) 292-2290 (option 3)
Fax: (585) 292-3857
testing@monroecc.edu

Monroe Community College's Brighton Campus testing center is a National College Testing Association (NCTA) certified test center. The 'We Subscribe' logo and the 'NCTA Guidelines We Subscribe' mark and the 'Consortium of College Testing Centers Participant' mark are service marks of National College Testing Association in the United States and are used by permission.