Testing Services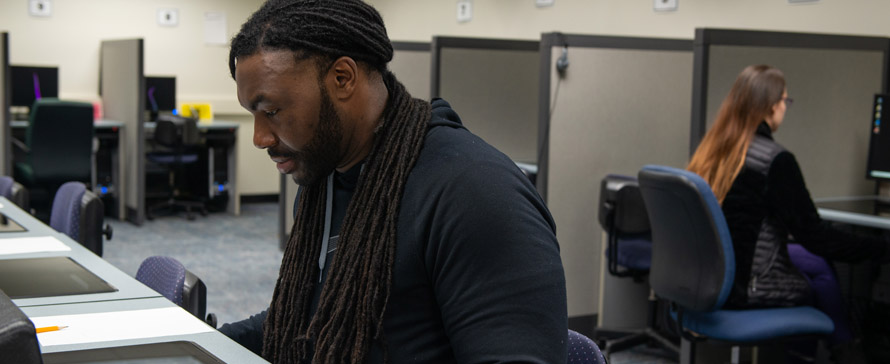 Appointments are strongly recommended.
Placement Testing
Monroe Community College offers computerized Next-Generation ACCUPLACER® (English and math) and CELSA (ESOL English) placement testing. Results will determine eligibility for math, English, and/or ESOL classes. Students should review prior to testing.
There is no fee for MCC students to complete the placement test at MCC. Students who live more than 60 miles from MCC can request off-campus testing.
Accommodated Testing
Monroe Community College offers testing accommodations for students who self-identify as having a disability and are approved through the Office of Disability Services at Monroe Community College.
Ability-to-Benefit (ATB) Testing
Monroe Community College offers computerized Ability-to-benefit (ATB) testing, required for those applying for financial aid who do not possess a U.S. high school diploma or equivalent. Minimum passing ATB scores: ACCUPLACER® Reading Comprehension 55, Sentence Skills 60, and Arithmetic 34 or CELSA (ESOL) 43 and ACCUPLACER® Arithmetic 34.
Students completing an ATB test are encouraged to arrive when the testing center opens for the day to ensure sufficient time to complete all required testing. Regulations require that all ATB testing is completed on the same day. NOTE: ATB testing is only available to students with MCC permission.
Other Proctoring Services
Monroe Community College proctors for the following test companies and exams:
ATI TEAS
Castle Worldwide
CLEP
Kryterion
Proctoring for other institutions (distance learning)
Prov
PSI
TASC
Location & Contacts
Brighton Campus
Building 6, Room 207
(585) 292-2290 (option 3)
Fax: (585) 292-3857
testing@monroecc.edu
Downtown Campus
Room 274A
(585) 292-2290 (option 3)
Fax: (585) 292-3857
testing@monroecc.edu

Monroe Community College's Brighton Campus testing center is a National College Testing Association (NCTA) certified test center. The 'We Subscribe' logo and the 'NCTA Guidelines We Subscribe' mark and the 'Consortium of College Testing Centers Participant' mark are service marks of National College Testing Association in the United States and are used by permission.