Campus Development Updates
New Downtown Campus:
GREEN ROOFS INSTALLED, REFLECT MCC'S COMMITMENT TO SUSTAINABILITY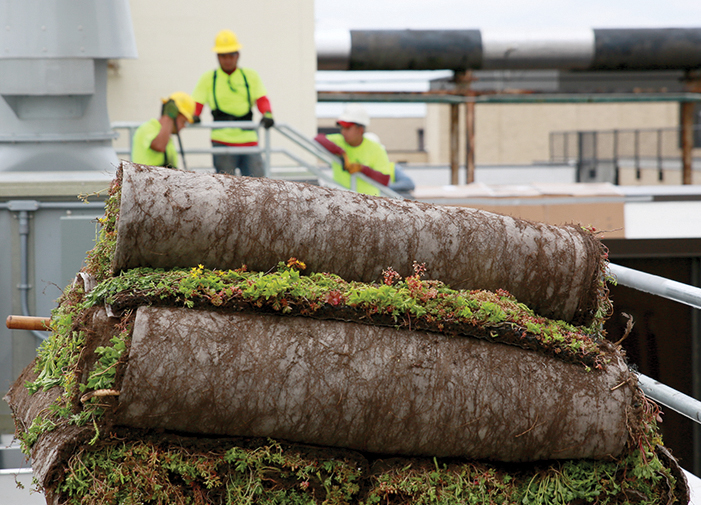 Rochester-based Elmer Davis Inc. Roofing worked with Wayside Gardens to outfit the Downtown Campus with four green roofs. Provided photos/LaBella Associates DPC.
Four newly installed green roofs are prominent ecological features of Monroe Community College's Downtown Campus.
At almost 22,000 square feet, the roof system is capable of capturing 13,000 gallons of rainwater during a single rain event, reducing MCC storm water pollution and protecting local waterways. The amount of rainwater it can collect is the equivalent of an aboveground swimming pool.
The roof system—a complex layering of sedum blend and succulent plants rooted in 4 inches of growing media—will also help offset the urban heat island effect and reduce the energy used to cool and heat the campus.
One roof will be used in MCC classes as a hands-on learning laboratory.
More than 50 percent of the green roofs can be seen from within the campus and from the adjoining Kodak Tower.
Downtown Campus Celebration
Join us for a community celebration of MCC's Downtown Campus at 10:30 a.m. Wednesday, September 20.
The celebration will include tours (guided and self-guided), student performances, remarks and refreshments. The event is an opportunity for MCC to thank everyone who made this long-held vision a reality.
DASNY CEO Tours Campus It Helped Furnish
Dormitory Authority of the State of New York (DASNY) President/CEO Gerrard P. Bushell and his staff toured the nearly completed campus in June as MCC employees began settling into their new offices.
DASNY managed the procurement and delivery of furniture, fixtures and equipment to the campus.
Led by MCC President Anne M. Kress and Assistant Vice President of Facilities Paul Wurster, the tour allowed Bushell, Western NY Construction and Project Management Director Rob Ryan and their interior designers to experience firsthand the College's vision for the campus.
DASNY's work with MCC will continue into September, with exterior signage among their final projects.
MCC, RTS PARTNER ON TRANSPORTATION FOR STUDENTS, EMPLOYEES
MCC and the Regional Transit Service have partnered to provide free transportation to MCC students and employees traveling between the Brighton Campus and Downtown Campus (via the Transit Center) starting in the fall 2017 semester.
Students and employees with their MCC ID will ride for free on select routes when school is in session.
The program provides an eco-friendly option for moving between campuses, said MCC President Anne M. Kress, who with RTS Chief Executive Officer Bill Carpenter announced the new transportation agreement in June at the Downtown Campus.
September 5 is the first day of classes this fall.
Facilities Open for Community Use
MCC is a welcoming place for students and the community to gather, network, study, eat and relax. The Downtown Campus also offers amenities for the general public to use:
• 321 Café, a 50-seat dining area with food selections available to eat in or take out.
• Event space, equipped with high-tech features, that can be rented.
• Economic & Workforce Development Center for individuals and employers seeking professional development opportunities.
• Convenient, well-lit parking for visitors on college business.
Final Issue of Newsletter
When the Downtown Campus construction project began about two years ago, we started a newsletter to keep MCC's supporters and friends apprised of the project's progress.
Now, with the project completed and our new campus opening for the fall semester, we are wrapping up our newsletter with this final issue. Past issues and information on the construction project are available online:
MCC: https://www.monroecc.edu/downtown
DiMarco Constructors: https://www.dimarcoconstructors.com
LaBella Associates: https://www.labellapc.com/mcc/
Thank you for your interest in and support of MCC's Downtown Campus!