Instructional Development Services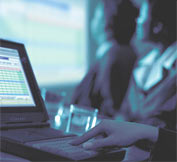 We provide assistance to faculty with all technical aspects of course design and development, including the design and utilization of various types of multimedia, such as PowerPoint shows, instructional videos and learning objects, for both face to face and online uses.
For new course development an initial instructional design consultation is held and then a development team is formed to guide and assist the faculty member through the development process. We also provide customized faculty training on the use of Brightspace.
Examples of services
One-on-one support for faculty in the design of online, hybrid, and web-enhanced courses.
Faculty training in instructional design and online teaching.
Technical support for on-line courses in distance learning, hybrid, and web-enhanced modalities using Brightspace
Advice and support in the development and integration of multimedia resources.