Salute to Excellence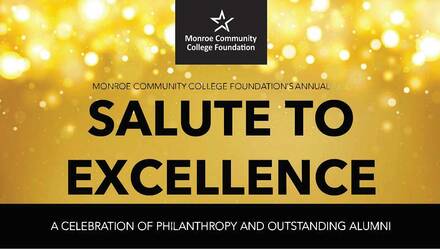 Monroe Community College Foundation's 31st Annual Salute to Excellence was held on November 10 at the Floreano Convention Center and was the stage for an inspirational and celebratory evening. Friends, family, donors and members of the college community gathered together to celebrate alumni and philanthropy having an impact at Monroe Community College. ESL was recognized with the Salute to Excellence and Dr. Alice Holloway Young was honored with the Salute to Volunteerism. The inspiring stories of Dr. Myra P. Henry '09, Douglas E. Parker '92, Joseph L. Searles, Jr. '89 and Erin L. Waller '98 were shared during their induction into the MCC Alumni Hall of Fame.
As if that were not enough, we celebrated the College's 60th anniversary of opening its doors with Honorary Chairs Presidents Emeriti R. Thomas Flynn and Dr. Peter A. Spina as well as our committee co-chairs Flor Colón and Daniel Goldstein.
Special thanks to our generous underwriters and Honorary Committee members for supporting this celebration of leadership, philanthropy and public higher education in Greater Rochester including:
Gold Sponsors
Avangrid Foundation and RG&E
ESL Federal Credit Union
R. Thomas Flynn and Dr. Peter A. Spina
Carol and David Good
Sage Rutty and Company, Inc.
Mrs. Ann Stabins Sewell and Family
Silver Sponsors
Konar Properties
LVW Advisors
M&T Bank
Popli Design Group
Royal Oak Realty Trust
Bronze Sponsors
LaBella Associates
M/E Engineering
Wegmans Food Markets
Allen K. Williams
Patrons
Davie Kaplan, CPA, P.C.
EFPR Group, CPA's
Tim Spitz
Ladies Auxiliary
LiDestri Food and Drink
Elaine Michael, ESM Associates and The James Michael Foundation
News10NBC
Donna and Frank Murano
St. John Fisher University Ed.D. Program in Executive Leadership
Trillium Health
YWCA Rochester and Monroe County
Benefactors
Essie Calhoun-McDavid and Bernard McDavid
Charles Vita, Canandaigua National Bank
Penny Crudup '12 and Randy Crudup
Dr. Daniele J. Lyman-Torres '02 and Eric Torres
Dr. Janet J. Glocker
Professor Karen Morris
Tedd Pullano
The Monroe Community College Foundation is a 501(c)(3) tax-exempt not-for-profit organization.
Funds raised from events support scholarship assistance, faculty enrichment programs,funding for educational equipment and seed money for innovative programs.
Questions or comments? Email the MCC Foundation