Latest News
Honoring the Influence of an Extraordinary Professor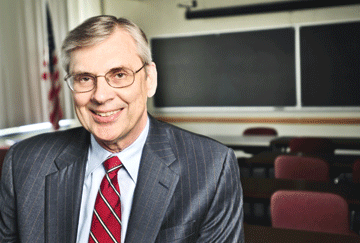 Monroe Community College has long been recognized for its dedicated and remarkable faculty. Recently, alumnus William (Bill) Thomas '86 was inspired to acknowledge the impact of Dr. David L. Pogue, professor emeritus in MCC's Department of Law and Criminal Justice. Bill credits Dr. Pogue's mentoring for changing his trajectory and guiding him down a pathway toward a career as an attorney, enabling him to create this scholarship in his honor.
The David L. Pogue Scholarship honors his dedication to preparing students for successful careers in the legal profession. It will support students who come to MCC for a solid foundation and who strive to reach higher and higher in academic and professional achievement. Bill says, "It gives me great pride and satisfaction to know this scholarship will always be attached to (Dr. Pogue's) name and that students will continue to benefit from what you have done well into the future.
Is there a current or former MCC faculty or staff member who helped transform your life? Consider honoring them with a gift to the MCC Foundation. For more information about creating a named scholarship, call the MCC Foundation at 585.685.6020 or email mccf@monroec.edu.
NYCCT Honors Avangrid Foundation, RG&E for Visionary Leadership, Support of Student Success
(November 9, 2021)
NYCCT's Benefactor Vision for Tomorrow Award recognizes contributions to innovative programs that help MCC students achieve academic goals, earn certificates and degrees MCC trustees and administrator also recognized as role models of excellence and service New York Community College Trustees (NYCCT) recognized Avangrid Foundation and Rochester Gas and Electric Corporation (RG&E) for their visionary leadership […]
Full Story
Bank of America Awards Grant to MCC to Help Close Workforce Gaps in the Health Care Industry
(October 27, 2021)
Through the Bank of America Foundation's $100,000 grant recently awarded to the Monroe Community College Foundation, low-income Finger Lakes region residents will receive financial support to start and complete MCC's Certified Nurse Assistant (CNA) Training and Development Program, building a more secure future for themselves and helping fill employers' critical demand for skilled health care professionals.
Full Story
More News
MCC Students Promote a Sense of Community Pride and Inclusiveness through Original Photography Exhibition
(April 27, 2021)
MCC Statement in Support of Asian, Asian American, and Pacific Islander Communities
(March 19, 2021)
MCC Board of Trustees December 2020 Schedule of Meetings
(December 14, 2020)