Latest News
Honoring the Influence of an Extraordinary Professor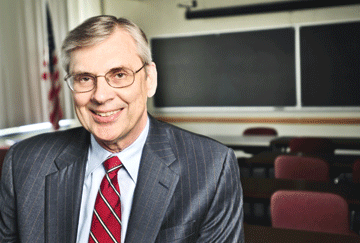 Monroe Community College has long been recognized for its dedicated and remarkable faculty. Recently, alumnus William (Bill) Thomas '86 was inspired to acknowledge the impact of Dr. David L. Pogue, professor emeritus in MCC's Department of Law and Criminal Justice. Bill credits Dr. Pogue's mentoring for changing his trajectory and guiding him down a pathway toward a career as an attorney, enabling him to create this scholarship in his honor.
The David L. Pogue Scholarship honors his dedication to preparing students for successful careers in the legal profession. It will support students who come to MCC for a solid foundation and who strive to reach higher and higher in academic and professional achievement. Bill says, "It gives me great pride and satisfaction to know this scholarship will always be attached to (Dr. Pogue's) name and that students will continue to benefit from what you have done well into the future.
Is there a current or former MCC faculty or staff member who helped transform your life? Consider honoring them with a gift to the MCC Foundation. For more information about creating a named scholarship, call the MCC Foundation at 585.685.6020 or email mccf@monroec.edu.
MCC Salutes ESL
(November 11, 2022)
ESL was honored as recipient of Monroe Community College Foundation's 2022 Salute to Excellence award on Thursday evening in recognition of its philanthropic support of local residents seeking to return to school to achieve a high school diploma and/or a college credential and of the hundreds of Rochester-area children and teens who participate in the annual Be A Healthy Hero Summer Camp. The Salute to Volunteerism award was presented to Dr. Alice Holloway Young, founding trustee of MCC and board chair emerita, in recognition of her enduring service, dedication and philanthropy to the college. The event also highlighted the achievements and leadership of four MCC Alumni Hall of Fame inductees.
Full Story
ESL Charitable Foundation to Receive MCC Foundation's Salute to Excellence Award
(November 3, 2022)
The Monroe Community College Foundation will present the Salute to Excellence award to the ESL Charitable Foundation for responding to and investing in the needs of individuals who left high school or college and seek to return to achieve a high school diploma and/or a college credential.
Full Story
More News
4 Business, Community Leaders Join MCC Alumni Hall of Fame
(November 2, 2022)
Finger Lakes Workforce Development Center to Support Local Employment Efforts with Bank of America Grant
(October 11, 2022)
Statement from MCC President on Shooting of Rochester Police Officers
(July 22, 2022)