The Annual Fund for Monroe Community College
FACULTY AND STAFF CAMPUS CAMPAIGN
BRIGHT FUTURES
Whether you chose to make an unrestricted gift or restrict your gift to a specific scholarship fund, support from faculty and staff is vital to the health and continued growth of MCC.
Your gifts to the Annual Fund for Monroe Community College make it possible for MCC students to overcome financial challenges that may seem like insurmountable barriers to a college education, they allow us to help build a more promising future for our students and our community by making the possibility of a college education a reality.
Every story begins with a new chapter and every gift to the Monroe Community College Foundation makes a success story possible. Thank you for helping us raise $713,372 in 2018-2019
2018-2019 Faculty, Staff and Retiree Annual Fund Honor Roll of Donors
Help make the dream of a bright future possible...and change the life of an MCC student.
Make Your Pledge
Make Your Pledge and Set Up a Payroll Deduction
Make an Online Gift
Faculty and staff make futures brighter and our Foundation stronger.
"Giving helps others and puts a smile in my heart." - Peggy Harvey-Lee

"Why do I support the MCC Foundation? Because the MCC Foundation directly supports MCC students committed to creating impactful lives for themselves. The Foundation enables deserving MCC men and women across all walks of life to fulfill their destinies as educated and empowered citizens in their communities long after graduation." - Honorable Matthew J. O'Connor, P.E.
There is a story inside every Monroe Community College student.
Gifts to the Annual Fund enable talented students to earn a transformative MCC education by providing scholarship and other support for their remarkable MCC experience. Meet graduates Ryann Farrell and Adrian Hale who benefited from your support.
While earning her degree, Ryann Farrell (pictured left) worked and attended MCC full time. Her most important role is being a mother to her three-year-old daughter. She is one of 25 single-parent students who received a scholarship specifically designed for hardworking parents who are changing the futures of their families. After years of working in food service, Ryann enrolled at MCC to earn a degree in hospitality management. Her motivation? Launch a career and create a future for her and her daughter.
"The scholarship I received while attending Monroe Community College enabled me to open doors in my life that I never thought I'd be able to walk through, including being accepted to Yale University! My success at MCC will continue to follow me no matter what I choose to do." Adrian's is working toward his brighter future and a career in politics. He is currently Senior Manager, Workforce/Economic Development & Education Initiatives at the Greater Rochester Chamber of Commerce.
MCC retirees help our community grow.
Retirees continue to help MCC students take their first step toward changing their futures by helping keep higher education at MCC accessible, affordable and inspiring every day!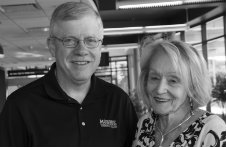 "Our desire is that, through a strong Annual Fund, the college will be able to assist any and all students with needs as they strive to complete their academic goals."
Make a gift to the 2019-2020 Annual Fund.
With your continued support of the Annual Fund, together we will provide the potential to open a new chapter for a student, one that will become a life-changing story.
Thank you.