The Annual Fund for Monroe Community College
FACULTY AND STAFF CAMPUS CAMPAIGN
Strong Foundations
Whether you chose to make an unrestricted gift or restrict your gift to a specific scholarship fund, support from faculty and staff is vital to the health and continued growth of MCC.
Your gifts to the Annual Fund for Monroe Community College make it possible for MCC students to overcome financial challenges that may seem like insurmountable barriers to a college education, they allow us to help build a more promising future for our students and our community by making the possibility of a college education a reality.
Grow your gift! Now is an extraordinary time for faculty and staff to inspire success and support MCC students with a gift to the MCC Foundation. Thanks to the generosity of MCC Foundation donors, your gift could be matched--up to three times in some cases—increasing the impact of your support.
The Summers Foundation Dreamkeepers Matching Challenge will match gifts restricted to the Dreamkeepers Emergency Need Fund from full-time and adjunct teaching faculty who are new donors to the MCC Foundation. In 2020, MCC awarded more than $177,000 in Dreamkeepers grants to students facing financial crises. Your gift will allow MCC to continue meeting students' emergency needs so that they can remain on the path to college completion.
The Konar Foundation Matching Challenge seeks to inspire new and increased unrestricted gifts to the Annual Fund from faculty and staff. Unrestricted support allows the MCC Foundation to be responsive to the College's most pressing needs. Since the onset of the pandemic, Annual Fund dollars have helped provide instructional technology to assist with remote teaching and learning, laptops for students who needed them for online coursework, and more.
The DiMarco Family Challenge matches new and increased Annual Fund leadership gifts (restricted or unrestricted) of $1,000 or more to the President's Circle and President's Circle of Honor.
The Esteban/LaBella Matching Challenge will match new unrestricted Annual Fund leadership gifts of $1,000 or more to the President's Circle and President's Circle of Honor.
Every student at MCC is working to build a strong foundation for a promising future. Every gift to the MCC Foundation helps students achieve their educational and career goals. Thank you for helping us raise $753,623 in 2019-2020.
2019-2020 Faculty, Staff and Retiree Annual Fund Honor Roll of Donors (PDF)
Help build a strong foundation for a promising future.
Make Your Pledge
Make Your Pledge and Set Up a Payroll Deduction
Make an Online Gift
Faculty and staff make futures brighter and our Foundation stronger.
"I have witnessed throughout my years at MCC how impactful the gift of giving helps our students achieve their dream of obtaining their college degree. Their stories are inspiring, filled with hope, and built on future dreams and it reminds me why it is important to give." - Antonia Custodio '99

"Why do I support the MCC Foundation? Because the MCC Foundation directly supports MCC students committed to creating impactful lives for themselves. The Foundation enables deserving MCC men and women across all walks of life to fulfill their destinies as educated and empowered citizens in their communities long after graduation." - Honorable Matthew J. O'Connor, P.E.
There is a story inside every Monroe Community College student.
Gifts to the Annual Fund enable talented students to earn a transformative MCC education by providing scholarship and other support for their remarkable MCC experience. Meet graduates Linda Pham and Adrian Hale who benefited from your support.
In her last year of high school, Linda Pham (pictured left) applied to a number of colleges. She was accepted at them all, but when she saw the steep costs, she chose MCC knowing that her family's resources were tight. Hoping to reduce the cost even further, Linda applied for and received two scholarships, allowing her to focus on her studies and reach a high level of academic success.
Her motivation? To build a strong foundation at MCC while saving the money she will need to study biomedical sciences as an undergraduate, for graduate studies and years of medical school to ultimately achieve her goal of becoming a pathologist.
"The scholarship I received while attending Monroe Community College enabled me to open doors in my life that I never thought I'd be able to walk through, including being accepted to Yale University! My success at MCC will continue to follow me no matter what I choose to do." Adrian's is working toward his brighter future and a career in politics. He is currently Senior Manager, Workforce/Economic Development & Education Initiatives at the Greater Rochester Chamber of Commerce.
MCC retirees help our community grow.
Retirees continue to help MCC students take their first step toward changing their futures by helping keep higher education at MCC accessible, affordable and inspiring every day!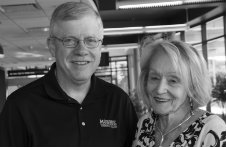 "Our desire is that, through a strong Annual Fund, the college will be able to assist any and all students with needs as they strive to complete their academic goals."
Make a gift to the 2020-2021 Annual Fund.
With your support of the Annual Fund, together we will provide the means to build a strong foundation for lifelong success.
Thank you.